Superstake, its ecosystem explained. Here are the goals, objectives and characteristics of the project and direct access to its official website.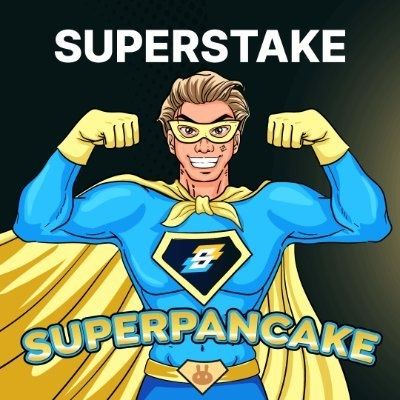 Superstake is the newest addition to the Superpancake ecosystem developed with the primary goal of making the SUPERPANCAKE project more sustainable.
Superstake, introduction
World's most innovative self sustaining ecosystem, everything you need for a project to be developed!
Superstake is a newest addition to the Superpankake ecosystem.
Super Cake is a hyper-deflationary token with secure autofarming to earn passive Hold reflections and Cake rewards on every transaction directly to your wallet. Just watch your $Cake assets grow indefinitely.
Why SuperPancake?
Superpancake, a project that pays rewards in $CAKE and has come to be liked by all investors, will be a complete crypto ecosystem with great ambitions, it is a project to hold. If you like passive income, you like to have and still have in your hands a complete trading platform, with stops loss and stops gain, fully decentralized, in addition to having a dashboard to monitor your rewards in the total amount, of 7, 15 and 30 days and compare one month with the other.
Now if you like NFT they have an exclusive collection, with a SUPER rarity, which will only have 20 units and will be a fair release for all holders.. Super Pancake is your best partner, he start to make money for you immediately when you hold $SUPERCAKE.
Tokenomics
EVERY BUY TRANSACTION IS TAXED WITH A 5% FEES
2% is swapped to $CAKE and distribued to all holders
2% is swapped to BNB and sent to marketing wallet
1% is auto-burned to reduce total supply
TOTAL SLIPPAGE = 5%
EVERY SELL TRANSACTION IS TAXED WITH A 10% FEES
5% is swapped to $CAKE and distribued to all holders
3% is swapped to BNB and sent to marketing wallet
2% is auto-burned to reduce total supply
1% is sent to Liquity Pool to liquidity
TOTAL SLIPPAGE = 10%