King, the 100% DeFi-based ecosystem. Discover the features of this new ecosystem as well as direct access to its official website.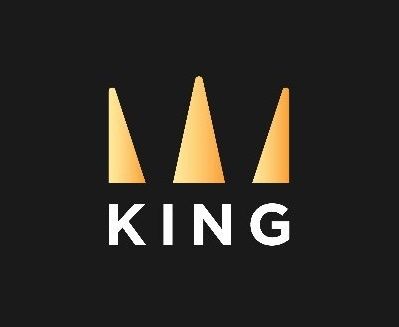 KING is the parent company in charge of the development of three of the most innovative services in decentralised finance. Our ecosystem is based on our ' internal circular economy', where our branches feed each other continuously and in a balanced way throughout the individual generation of funds.
Immerse yourself within KingPad, KingLand and KingFloki.
King, overview:
KING has a unique storytelling and background. Launched as King Floki by a different team in 2021, KING was then taken over and purchased by one of the highly recognised teams within the crypto industry to become a brand of the people, to become unique, to become KING.
KING is the mother company in charge of the development of three highly innovative services in decentralised finance. This ecosystem is nowadays amongst the most complete and unique businesses within the industry, including an all interactive and creative metaverse, a launchpad for start-up funding and investor's security and a real estate company with proportional returns to shareholders. All of the above merges within the circular economy of the company, where every branch feeds each other in order to keep the highest standards of innovation within the business.
Moreover, this project is ruled internally with infinity of benefits to holders of our native currency, $KING.
KingFloki
A great game in the Metaverse
King Floki is a creative metaverse built in Webgl, born to improve people's accessibility and gaming experience.
It is indeed playable via any Internet browser with only 5Mb of data download speed to ensure smooth gameplay. This metaverse is built for everyone, for children, teenagers and adults alike.
KingFloki presents a unique gaming experience where users can chat, meet, edit, craft, dress up, compete, listen to music, trade and much more within the accessibility mentioned below.
This game is accessible through a web3 or standard email connection, where users can choose their own username displayed in the multiplayer game.
KingPad
A safe place to join the best
KingPad is a revolutionary launchpad that allows crypto startups with good business plans to find a way through and start their fundraising with the right foot.
​
In this ecosystem the entrepreneurs are the future. The goal is allowing start ups to have a safe platform where they can showcase their products to a significant amount of investors is an essential part of our future.
​
King Pad aims to be the first and only launchpad up to date that includes a well structured mandatory vesting process to help the project's growth and manage the individual greed experienced within crypto launches.
Within this minimalistic and easily accessible platform, you will be able to find all startups that have passed the filters and the proportional mathematical calculations of KING, in order to give our users the best experience possible. This project follows strict procedures to keep investors safe. Furthermore, KingPad is partnered with some of the most recognised crypto security brands like assuredefi.com.
King Land
Be the King of your Real Estate
KingLand is our latest registered branch, which will include some of the most competitive real estate agents in different parts of the world to ensure that the real estate assets purchased by KING have enough potential to generate a balanced return of investment, allowing users to be a part of a successful ecosystem by owning fractions of the land and therefore getting the proportionate returns.
For instance, let's say that one of our properties costs $1,000,000, and one of our investors has invested $10,000 in a fraction of that property, therefore owning 1 % of it. The property is allocated as a holiday home for an average inflow of $12,000 a month, so the investor mentioned above would cash in $120 a month for as long as the property is actively generating. Now imagine that six months later the house appreciates to a value of $1,500,000. With this, the investor above would be sent a proportionate amount of $15,000.
This ecosystem constantly utilises the real estate actives to appreciate the company's value and therefore be eligible and accountable to higher entities.