Decentralized Bitcoin trading, what not to ignore? If you want to trade Bitcoin, scalping, day trading or you are already doing it, here is some important information.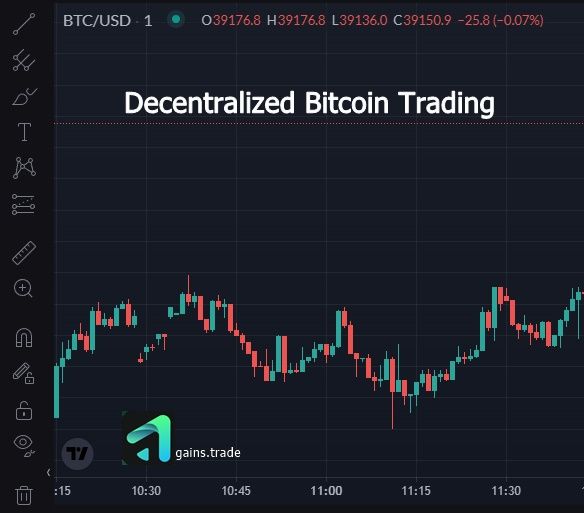 Decentralized Bitcoin trading, what is it and is it possible?
Just get the answer to this question below or go directly to
Bitcoin technical analysis to make informed decentralized Bitcoin trading
In the news of decentralized finance, we talk a lot about NFT, Metaverse and other projects, but some people ask the question, is it possible to do decentralized trading and especially on Bitcoin?
While crypto-currencies can be used to purchase everyday items in some stores, they are more commonly traded as digital assets for investment profit.
Impressive profits can be made by buying and selling on crypto-currency exchanges. But prices can be very volatile, so you could lose a lot too.
Decentralized Bitcoin trading:
Bitcoin trading is how you can speculate on the price movements of the crypto-currency without necessarily buying Bitcoin. This is because traditionally, you would have to buy Bitcoin via an exchange, hoping that its price would rise over time. But now, those days are over, currently, crypto-currency traders are increasingly using derivatives to speculate on the rise and fall of prices – in order to make the most of Bitcoin's volatility and without having to actually buy Bitcoin.
This allows one to trade Bitcoin in one's own way, scalping, day trading, swing trading as one would with an index or gold.
Some people have already made their experience with a broker, they had to send money, after opening an account, and proceed to a lot of so-called security measures before they could actually trade. Then, once they made money, they were confronted with the broker's system of claw backs.
In order to avoid all these procedures, and above all, in order not to need to trust a broker, by sending him his money, more and more traders are turning to decentralized trading.
At present, we can say that a good decentralized trading platform offers scalping, day trading and swing trading, as is the case with – gains.trade
Decentralized Bitcoin trading, the advantages:
The advantages of decentralized trading are obvious:
no registration, no need to create an account

high leverage if desired

no sending money to a broker

direct trading from your Metamask account, for example

no need to apply to get your money back
You should know that on some platforms, you can do virtual trading, to familiarize yourself with the platform. Before you start trading for real, this option allows you to get used to the platform, which is recommended.
Another important point, you can also, on some decentralized trading platforms benefit from chat that allows you to communicate with other traders.
Therefore, yes, it is possible to trade Bitcoin on a decentralized trading platform and take advantage of the benefits offered by the blockchain and decentralization.
Now, you know, that when looking to trade Bitcoin, there is an alternative to using centralized exchanges to profit from the rise and fall of its price. You can trade on Bitcoin's price movements via decentralized and leveraged trading.
For your information, it is possible to trade dozens of different cryptocurrencies as well as Forex (gains.trade).
Decentralized Bitcoin trading, technical analysis (daily)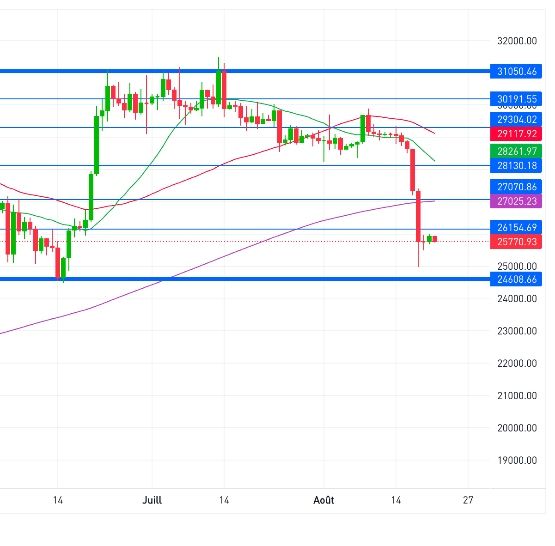 Decentralized trading with bitcoin, should we refrain from taking a position or on the contrary, is it the right time to take a position?
Current situation: The big correction has taken place, and perhaps that's no bad thing. It may allow the price to go back up again, this time overcoming resistance at around $31,000. However, we'll have to study what the price is doing now. In order to hope for a significant rise in the near future, it's vital that the $27,700-$26,200 zone remains a solid support that won't give way. Then, with volume, we need to pass $26,200 to reach $27,00 and then $28,100. Otherwise, the fall could continue and hit the $24,600 support level.
Beware, as already indicated above, banking news as well as bankruptcy and regulatory announcements will create considerable price turbulence this summer. That's why it's a good idea to take a step back, which is why this chart is a daily chart.
If you're investing for the long term, this could be a good price. If, on the other hand, you're trading with leverage, then be careful, as the risk of the price falling all at once and rising again just as quickly is still high.
Supports are:
The $25,700 zone and then the $24,600 zone
The daily moving averages are still very bearish.
Next objective on the upside:
We can aim for $26,200 – $27,000 and $28,200 initially.
WARNING!
1. Trading with or without leverage is risky, you can lose everything you trade.
2. If you live in the USA or are American, you cannot trade on this platform