NFT tattoo with Ethernaal. When tattoos become eternal thanks to NFTs. Tattoo for life, NFT for eternity.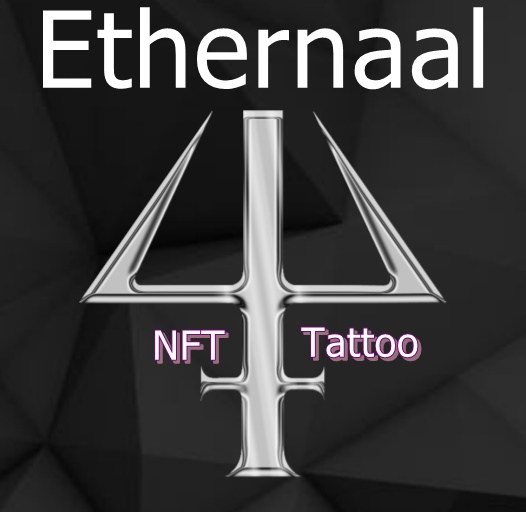 NFT tattoo, what are we talking about?
It's a collective of artists shaped around the tattoo and blockchain industries, managing its own brand, marketplace, art collections, cash flow, partnerships, gallery and museum curation.
The project was born from the vision of a decentralized and collective organization for the tattoo and art industry, built to offer new artistic, creative, organizational and financial possibilities.
The news of NFT is marked these days by the creation of an original platform which answers a real need of the amateurs of tattoo. Let's go further in its discovery.
NFT tattoo with Ethernaal:
Ethernaal has many purposes among them; to be a Marketplace for any artist to create, buy sell or trade all kinds of NFT; to be a digital Museum focused on digital art, it´s artists and cultural heritage; to be a collective organization with purposes and missions: identifying master practitioners, investigating and documenting art history; building a cultural database.
Ethernaal, the fusion of an age-old practice with blockchain technology:
Ethernaal removes the cast and allows artists to convert their designs into flashes (a flash is a handwritten tattoo draft made on a piece of transparent paper) and their flashes into NFTs without the need for technical background, it is the fusion of an ancestral art and modern technology meant to provide the next iteration in evolution, the NF2T (Non fungible Tattoo Token) and it´s many derivatives.
Ethernaal offers to create any kind of NFT Classes, wherever the user need is to digitalize a piece of equipment like a tattoo machine, an experience such as a scar, a NF2T (Non-fungible Tattoo Token) or to recognize Mastery of a discipline.
This platform also allows creators to select a licensing model for their art so buyer can understand the intellectual property and exploitation rights parameters when purchasing an NFT.
There are about 20 different NFT Classes fits to meet any requirements faced from individuals, tattoo artists, studios, manufacturers, professionals of the entertainment industry, video production labels , video game studios, artificial intelligence creators or celebrities with public exposure looking to secure the intellectual properties of their tattoo as an independent asset.
Ethernaal is also a collective owned by the $NAAL holders, it is based on the DAO theory (Decentralized Autonomous Organization), the code, the web user interface, the treasury, everything (a part of the team members) is owned by the Token Holders and the decision-making process is achieved through voting.
You will have understood, the tattoo enters a new era, that of the NFT tattoo, want to know more?