Muverse, what is it? Discover this ecosystem dedicated to music, its objectives and direct access to its official website.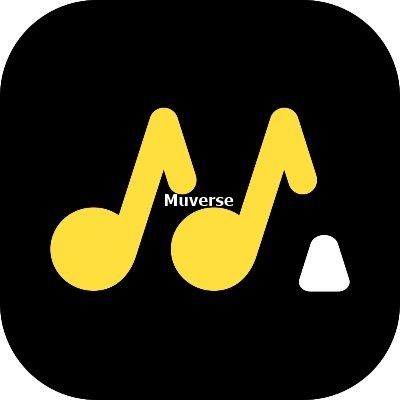 Muverse is a community-driven Web3.0 interactive music platform.
By connecting Music with Games, social and crytpo, Muverse allows global artists and fans grow together through its in-App interactions and enjoy the rich rewards in Web3.0.
Muverse appeals to global artists and fans to grow together through in-app interaction and earn rich rewards in web3.0.
By owning a Muverse Headphone NFT and interacting with the artist's track NFT within the App, users will receive tokens that can be used in-game or cashed out for profit.
All those who follow the GameFi news will discover with this project a very interesting ecosystem, here is why.
Play To Earn
Music interaction & gain rewards!
Select the music works for interaction and players will be rewarded with tokens based on the interaction score.
Muverse, Game Modes
Interact with artists' music work and earning crypto
Simple mode
In Simple mode, users can earn tokens without purchasing Headphone NFT as long as they have energy.
Advanced mode
Headphone NFT can boost additional earnings. Higher income will be generated in Advance mode when users own Headphone NFT.
Single Player Mode
Users can only participate in the single player mode when they have energy, and per energy can be used for 1 interaction.
Players can gain scores and MCT once they complete the interaction in game.
Earnings are evaluated based on the following 3 factors:
Game Difficulty – With different types of Headphone NFTs, users can choose music games with different difficulty levels. The harder the game is, the higher MCT reward you will earn.
Game Performance – Your scores are based on your game performance.
Headphone Quality – The higher quality the Headphone NFT is, the higher MCT reward you will earn for the same score.
Now those who follow the news of the metaverse will not be left out since this ecosystem will also develop in the metaverse, here is how.
Social Mode
Metaverse Music
The vision is to use music to bring together music lovers around the world, meet soulmates through music, and become best friends. Create your own "digital music world" at Metaverse Music.
Muverse – tokenomics
MCT
The Muverse DApp is powered by MCT, the in-app token of the platform. Users can earn and use MCT in multiple scenarios in our App.
MCT is a Token used for operating in the Muverse,MCT earned by interacting with music.
Total Supply
The supply of MCT is unlimited and distributed to users as an in-app reward.
Application Scenarios
As a payment method in multiple in-app scenarios, including Headphone Mint, NFT durability repair, NFT upgrade, gem upgrade, unlock gem socket.
Token Burn Mechanism
All MCT used to pay for the above application scenarios will be put to destruction.
MU
MU is the governance token of the platform. MU is a payment token with some advanced functions.
Total Supply
1,000,000,000 MU
The total amount of MU Token is 1 billion with different lockup periods between 1-2 years.