Flux, decentralized Web 3.0. Flux is the new generation of scalable decentralized cloud infrastructure.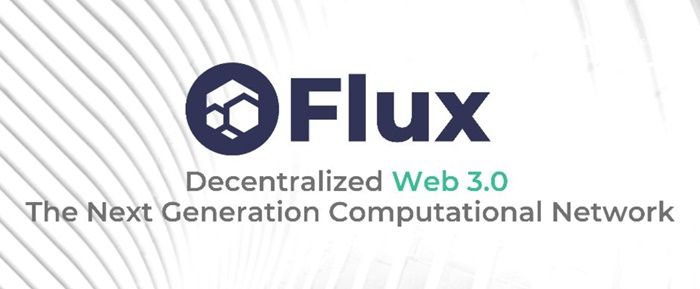 FLUX, fork of ZCash was born discreetly in January 2018 under the identity ZELCash (ZEL. ). Three years later, in order to avoid any confusion with its illustrious ancestor, the project changed its name to better assert its identity and become by the end of the first quarter of 2021 the one we know today.
Let's analyze this project that stands out in the hot DeFi news
Flux in a few words:
The Flux ecosystem consists of a suite of decentralized computing services and blockchain-as-a-service solutions, brought together to provide an interoperable and decentralized AWS-like development environment.
This ecosystem uses a native token (FLUX token) running in proof-of-work to power this ecosystem, providing incentives for hardware resource hosting, on-chain governance, and bad actor limitation via staking requirements.
The operating system runs on top of Linux to provide the network with verified, enterprise-grade computing power and uses blockchain to provide transparency in governance operations.
Flux is the new generation of scalable decentralized cloud infrastructure. Simply develop, manage, and spawn your applications on multiple servers at once. Ready for Web 3.0, dApps, and more.
The FLUX network is permissionless, which means that anyone can join it as a user of the services provided, but also to become an operational actor of the blockchain, by operating a masternode.
This ecosystem operates through a network of masternodes (2300 at the moment), allowing the maintenance of an operational network 24/7, itself supporting an environment of applications and exchanges of value a little more dense each day.
In addition to masternodes, it is also possible to mine FLUX cryptocurrency. Indeed, the FLUX network works on a Proof of Work (PoW) mechanism.
In a nutshell:
The ecosystem consists of a full suite of decentralized IT services and blockchain-as-a-service solutions. It consists of:
– Fluxnodes decentralized infrastructure,
– FluxOS cloud operating system,
– Zelcore suite of multi-asset wallet and blockchain applications,
– The project's native blockchain for governance, economics and parallel assets on the blockchain to ensure interoperability with other blockchains and access. to DeFi.
Scalable and Decentralized Computational Network
The FluxOS is powered by individual Flux holders running FluxNodes. These FluxNodes are geographically-spaced all over the world, so developers can be assured that their apps are accessible by users at all times and locations.
Flux and the WEB 3.0
Innovation and expansion are key factors in the Flux network. The proposed new economic model comes with a strong approach to DeFi and Web 3.0.
The project has implemented a mechanism of parallel assets that will live on other blockchains, this ecosystem will capitalize on the beneficial features of each blockchain without depending on any of them.
Please follow and like us: