DRIVEZ, the Web 3.0 application mixing GameFi and CommunityFi. Discover the characteristics of this project and its official website.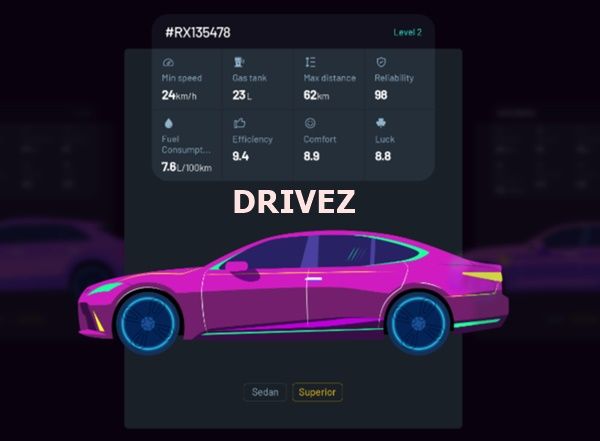 DRIVEZ is a Web 3.0 lifestyle application and the first NFT DAO mixed up with GameFi and CommunityFi.
This project aims to turn your boring daily commute into an enjoyable and effortless gain.
DRIVEZ doesn't encourage users to drive more (and produce more emissions in the process), but we have found a way to make your daily drive valuable and use it to fight air pollution and plant new trees around the world.
The goal is clear:
Turn boring daily commutes into valuable gains and join hands to make our world greener!
Only 50.000 NFT will be issued by DRIVEZ's team, we give the rights of creating new cars to the Community to be the vehicles' manufacturers.
Discover now why this project will mark the world of web3 with its main features and direct access to its official website.
DRIVEZ community-Fi
Community-Fi is DRIVEZ's long term vision. We want to give NFT DAO's community the governance rights, and more than that we want to build a community social network in the future where everyone can join hands and make the world better.
Community-Fi will be released by the end of 2022.
Auto-Balance & Anti-Inflation Control System (ACCS)
ACCS is a control system invented by the experts of DRIVEZ. This system controls the reward distribution process to reduce inflation of Token (DRIV & INCO) and NFT (via NFT DAO).
Every day, based on the sources of NFT that running on road, users' earning & spending, numbers of token burning, and ROI expectation, the AACS will recalculate rewards in order to control the rewards that distributed on that day to minimize inflation. In some cases, this AACS can even help to deflate the token and increase its price.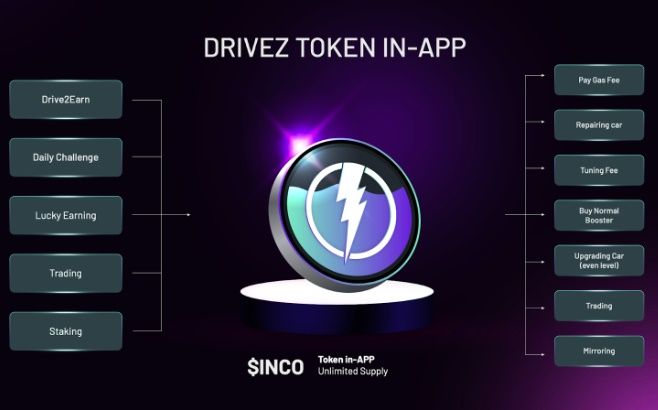 Tokenomics:
DRIV Token
Token type: Utility & Governance
Total supply: 1,000,000,000 DRIV
Blockchain network: BNB Smart Chain (BEP20)
The total supply of DRIV will be minted at the Token Generation Event. Please refer to the contract address of DRIV: (to be announced at TGE)
INCO Token
Token type: In-App token
Total supply: unlimited
Blockchain network: BNB Smart Chain (BEP20)
The INCO Token will be minted and released on-demand depending on the earning of users.
INCO contract address: (to be announced at TGE).