5 promising cryptos + 1 bonus. I offer you a selection of promising crypto, while warning you that this is not an investment advice but a personal opinion.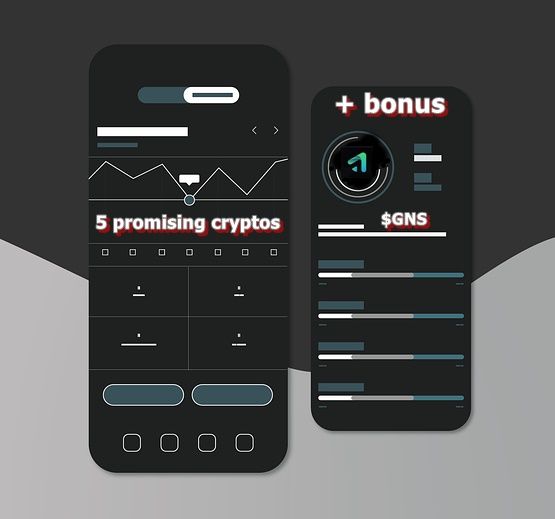 5 promising cryptos with an added bonus, discover the crypto with high development potential and already proven.
As I write this article, we are in the middle of a bear market, which means that announcements in the crypto media are almost always negative, which is disturbing in my eyes. Why is that?
Simply because bear market periods are good times to make good deals and earn a lot in the future from investments made when everyone else was losing or selling.
Did you know that in the middle of a bear market, some projects managed to achieve triple-digit returns?
Exactly like during bull market periods.
Discover in this article the top 5 cryptos that have seen the biggest increase in monthly data, without forgetting my bonus that concerns a crypto with great potential, the $GNS.
Optimism is one of the crypto-currencies that has benefited greatly from the Ethereum rally. Its token recorded a 239.62% growth during the month of July.There are three elements that have fueled Optimism's rise. First, there's the news of Ethereum's mainnet. Second, Optimism officials announced in the EThcc conference that they plan to implement the Proto-Danksharding or EIP-4844 improvement proposal. Finally, there is the TVL of the ecosystem that has doubled in the last 30 days.We remind you that Optimism is a layer 2 protocol of Ethereum. Its blockchain is home to projects like Synthetix, Uniswap and Velodrome.
Lido Dao fait partie des projets ayant été largement impacté par la baisse du marché crypto. Le produit phare du protocole, à savoir le Staked Ether a connu un sérieux depeg par rapport à l'Ethereum. La menace de liquidation des produits stEther par des entreprises en difficulté comme Celsius Network a secoué le Lido DAO.Fort heureusement, l'optimisme autour de la migration de l'Ethereum a permis au stEther de retrouver peu à peu sa valeur de parité à l'ETH. Ainsi, le token de Lido DAO, le LDO a réalisé un bond extraordinaire sur le marché cryptos. Sa valeur est passée de 0,46 $ à un sommet de 2,40 $ au cours du mois de juillet, soit une hausse approximative de 421,73%.Le Lido Dao est une plateforme qui permet aux utilisateurs de staker leurs éthers dans des contrats intelligents. En échange, le protocole leur fournit des jetons stEther qu'ils peuvent utiliser dans d'autres protocoles de la finance décentralisée à des fins de lending ou de yield farming.
Bitcoin Standard Hashrate Token experienced a meteoric rise during the month of July. Its price rose by 642.59% during the month. As you can see from the chart, its rise comes at the end of the month. Over the last three days (July 28-31), the price of BTCST went from $12 to $40 and then dropped towards $29.17. It is clear that the crypto has experienced an extreme sequence of volatility.While the reasons behind this rise remain unknown, the Bitcoin Standard Hashrate Token is still a pretty interesting crypto project. It is an application that seeks to bring liquidity to the Bitcoin mining market. When you know the immense cost of mining, BTCST allows anyone to gain exposure to this sector at the lowest cost.During the bull market, the price of the token had climbed to 91.94% but had ended up dropping to $4.3 during this year. This recovery allowed BTCST to erase some of its losses in May and June.
Pundi X is certainly the least known crypto on this list. It is indeed a project created in 2017. The aim of the creators is to promote other applicability cases of cryptocurrencies other than trading on exchanges. Pundi X focuses a lot on payment solutions for retailers.During this month of July, the price of Pundi X has risen 120.25%. As you can see from the chart element, the crypto's rise comes at the end of July. At the time of writing this article, the price of PUNDIX has gained over 65%.
Ethereum Classic has benefited from the news of the merge but in a reverse direction. When Ethereum moves to the Proof of Stake consensus mechanism, miners in the ecosystem will unfortunately be forced to cease operations as the validation of transactions and the creation of new tokens within the network will no longer be based on computing power.Miners will then take refuge in Ethereum Classic, which will continue to operate under the proof-of-work mechanism. All this context has therefore created some enthusiasm around the token. Over the last 30 days, the price of Ethereum Classic has jumped 202.50%. According to experts, the ETC token is expected to continue to rise at a much higher rate than Ethereum or Bitcoin.
Here is in addition to these 5 promising cryptos, the one that caught my attention, I let you discover my bonus.
$GNS
$GNS, the token of the decentralized trading platform gains.trade offers a potential of gains in the future very interesting because totally underestimated. Find out why by visiting its site, see for yourself its marketcap, trading volume and the seriousness of this community. The undervaluation is huge, you can make your own opinion.