MoonFarmer, a new yield and self-liquidity farming protocol.MoonFarmer has been developed by a Team of Crypto experts with the intention of creating a products that gives the most to their community!
MoonFarmer has build its own NFT Marketplace (SpaceNFT) where you will be able to buy, sell, auction and discover rare digital items and crypto collectible.
Get access to the best cross-chain farms with MoonFarmer Control Desk.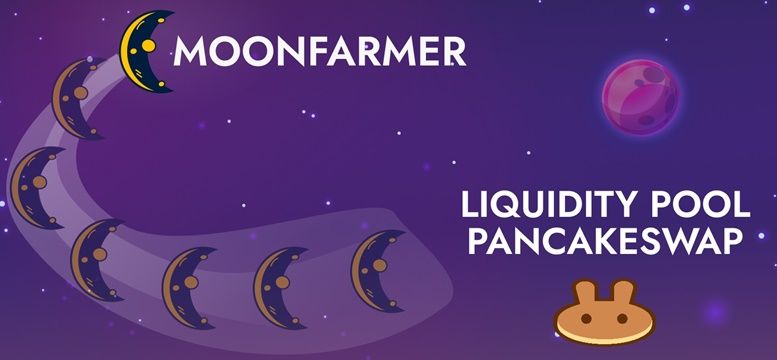 MoonFarmer and its concept of automatic liquidity pool:
5% of every transaction contributes towards automatically generating liquidity that goes into Pancakeswap.
One of the biggest problems of the new projects, is the lack of liquidity in the liquidity pool.
This is really frustrating for active traders who do trading regularly to be in that situation where they are unable to finalise their transaction due to the low liquidity in the LP.
In order to prevent this from happen, we have implemented an Auto Liquidity System where on each transaction, 5% of the import goes automatically to the Pancake Liquidity Pool!
5% of every transaction is redistributed to all $MFM holders, the more you hold more you can claim.
As mentioned, one of the privileges reserved to our holders is the BNB reward!
We believe that this is an appreciated reward therefore; we have implemented it to be the 5% of every transaction made. This will be re-distributed to all $MFM holders and will be claimable from our website under the "Claim BNB" section.
Each holder will be able to make a claim on a daily basis.
If a buy transaction is made during the waiting day, this will affect and increase the personal "Claim BNB" waiting time proportionally to the amount added on the holding wallet.
Per instance, if you add up more 40% $MFM, you will have to wait 40% x 1 (9.6 hours). This means that you will be able to claim your BNB after 1 day and 9.6 hours.
The maximum waiting increase has been fixed at X2 your original holding therefore if in a waiting period you decide to increase your holding by 100% +, your waiting time will not surpass the 2 days no matter how much more you add on your holding.
This is to prevent people from trying to cheat by adding $MFM at the end of the waiting time just to take advantage of the claimable amount increase.
Yield Farming Control Desk
By holding MoonFarmer tokens, you will get an exclusive access to the best cross-chain pools farms currently live with their API.
Moonfarmer will have integretated on its website ad crosschain Yield Farming Control Desk.
This feauture will allow all the holders to have under control with a live view all the best pool farms currently live in the market and will give you the opportunity to take the most out of any crypto in your possession!
Space NFT
The unique NFT Marketplace built on the BSC Network and meant to be the most prestigious NFT cross-chain on a global scale and open to everyone!
SpaceNFT is the new decentralized NFT Marketplace developed by MoonFarmer Team and built on the Binance Smart Chain Network.
Multiple features empower creators, artists and traders to generate (with cost-effective 100 times better than the classic NFT Marketplaces currently in circulation), trade, auction and discover rare digital assets and crypto collectibles.
Have we aroused your curiosity? Want to know more?