Nasdaq, un nouvel acteur majeur se lance sur le marché des cryptomonnaies
Quand on parle du NASDAQ, on parle d'une entreprise gérant le deuxième plus important marché d'actions des États-Unis. Cela situe l'importance de cette nouvelle pour le monde des cryptomonnaies, il semblerait qu'elle soit sur le point de
lancer son propre fonds de gestion de cryptomonnaies pour les institutionnels
Le Nasdaq, la deuxième Bourse la plus importante des États-Unis, s'apprête à lancer un service de conservation de cryptomonnaies.
Baptisé « Nasdaq Digital Assets », celui-ci sera exclusivement réservé aux clients institutionnels.
Cette annonce est faite sous réserve d'une approbation des régulateurs américains.
Abuses that could cost the US dearly in the future
The SEC's announcement is baffling, here's a summary of what they think:
As far as the SEC is concerned, Ethereum (ETH) transactions "take place in the United States."
The SEC allows itself a daring and dubious shortcut, by estimating that because of the important concentration of its validation nodes, the transactions on Ethereum took place in the United States.
In addition to the legal aspect, this highlights flaws caused by geographical centralization. According to Etherscan, the United States is indeed the country with the most nodes, with 4,365 nodes, or 46.19% of the network.
This highlights the importance of decentralization in order to avoid, as much as possible, offering one country more than another the possibility of appropriating a project that is the property of no particular country.
After The Merge, the Ethereum ecosystem could attract more and more institutions
Once the Merge succeeds, according to one study, it is quite possible that Ethereum could replace some business tools.
Indeed, a study suggests several use cases that could allow Ethereum to serve businesses, the project could also attract more and more institutions.
To demonstrate this, the study highlights three use cases, starting with payment methods.
Companies such as Paypal or Visa could take advantage of the blockchain to improve their transactions.
As for the private blockchain, it could enable interbank payments that require confidentiality but not necessarily speed.
The second use case includes the simplified creation of marketplaces through numerous tools or platforms available on the main network.
Multiple layers could also be used in case of large volumes.
Finally, according to the study, Ethereum would make tokenization possible while ensuring regulatory compliance.
In order to demonstrate that such a use would already be possible, the document takes as an example the company MS Azure, whose tokens are used to record and then transmit data.
Ethereum thus seems to have several alternatives that can replace the current tools of companies.
Attack on Tornado Cash and its users sparks solidarity
The lawsuit between Tornado Cash and the U.S. Treasury is undoubtedly one of the thorniest cases in the history of cryptocurrency. It is also attracting the interest of the biggest figures in the crypto world. This is notably the case of Coinbase. It announced on Thursday the funding of a lawsuit filed against the US Treasury.
Coinbase finances the Tornado Cash VS OFAC trial
On August 8, 2022, the U.S. Treasury (OFAC) banned access to Tornado Cash. This is an open source cryptocurrency mixer or blender that runs on Ethereum. This sanction follows allegations that Tornado Cash helped hackers (backed by the North Korean government) launder nearly $7 billion in virtual currencies.
On Thursday, September 8, 2022, six people decided to file a lawsuit in the federal court of the Western District of Texas.
The goal: to block the sanctions imposed by the U.S. Treasury Department and force it to remove Tornado Cash from the blacklist. In his statement yesterday, Brian Armstrong (CEO and co-founder of Coinbase) said he would fund the lawsuit.
In the official Coinbase blog, Brian Armstrong explains the reasons for his support. According to him, many users will find their funds trapped as a result of the sanctions imposed by the US Treasury. Even worse, they will no longer have access to an essential privacy tool. Knowing that Tornado Cash does not only allow mixing cryptos. This tool also optimizes the confidentiality of transactions.
It is therefore a question of defending the freedom of everyone to be able to continue in the future to make transactions respecting the private sphere and therefore anonymous by stopping thinking that anonymous transaction automatically means "criminal" transaction.
Central banks' digital currencies, the BCE's very clear opinion
The European Central Bank (BCE) has published a new research report on central bank digital currencies (CBDs).
It contrasts them with stablecoins, and finds that institutions are the only ones able to preserve monetary stability.
We can see that if the FED in the USA is for the moment rather reserved on the subject, the BCE seems to have decided.
Indeed, for her, central bank digital currencies are the only "viable" alternatives to cash.
The reason?
Crypto-currencies are still considered too unstable and could unbalance the Eurozone and completely destabilize the economy and the financial world.
Everyone will judge the relevance of these words.
Dollar-linked stablecoins soon to be banned in the EU?
It's called the MiCA regulation, you may have heard of it. What we can say is that it is far from being unanimous, on the contrary, indeed, the crypto lobbyist associations are demanding explanations.
In effect, the MiCA regulation will ban dollar-backed stablecoins in the 27 countries of the European Union (EU).
In practical terms, this proposal places restrictions on the issuance and use of stablecoins linked to a non-local currency. For example, it does not affect stablecoins backed by an official currency of an EU member state.
According to two crypto lobbyist associations, restricting the use of stablecoins backed by foreign currencies in the eurozone would "cause crypto markets to seize up." This could lead to a significant flight of cryptocurrency activity out of the EU.
El Salvador joins the list of the World Tourism Organization (UNWTO), could it be because of Bitcoin?
For the President of El Salvador, there is no doubt, he said it very clearly:
the influx of tourists is due to the adoption of Bitcoin
It is a fact that is very clear, the data of the World Tourism Organization and Google reveal a peak of interest in El Salvador.
In fact, El Salvador is one of the few countries that have seen their tourism development grow in such proportions.
In short, President Bukele explains this tourist influx by the adoption of Bitcoin (BTC) as a legal tender and the promotion of certain sports like surfing.
New technologies have always started by scaring the majority and right-thinking people, it was the case with the internet, websites, it is the same with today's cryptocurrencies.
However, it's up to you to estimate if the success will be as great in the future for the latter as it was in the past for the internet and the web as we know it today.
On this reflection depends perhaps the state of your fortune in the future.
Is this already the end of Bitcoin's dominance over altcoins?
It is true that if you look at the numbers, the graphs, you can see signs that could make altcoins enthusiasts happy.
While everyone can see that the crypto market has largely suffered since the beginning of 2022, we can also notice that everything is gradually coming back into place.
Currently, the bitcoin (BTC) price is bullish and the uptrend seems to be underway, although it requires passing the $31,000 mark in order for this trend to be well confirmed.
Altseason 2022:
Bitcoin is the leading crypto by capitalization. As a result, it single-handedly dominates the crypto market. However, there is a period during which altcoins take over and acquire a higher market capitalization than BTC. This is known as the Altseason or altcoins season.
During this period, it is recommended to invest in altcoins rather than BTC. In order to invest well, it is best to follow the cryptocurrency news assiduously. During the dominance of bitcoin (BTC), it increases in value rapidly. It's quite the opposite during the Altseason.
If altcoins are ready for the Altseason, in my opinion, it is still a bit early to say that we are already completely in the Altseason, because it all depends on what Bitcoin will do in the coming weeks. However, it is true that it is becoming more and more interesting to get informed and why not take positions on some Altcoins that could well see their price soar soon.
Bitcoin and investment funds, a marriage of convenience?
Even if investment funds are not particularly fans of cryptos, it turns out that in view of their success, they can no longer ignore them and must therefore increasingly be able to offer solutions including them.
That is why, for example, the largest fund manager Blackrock has made a partnership with the company Coinbase.
We can see that the rapprochement between DeFI and traditional finance is accelerating but does not erase the systemic differences between these assets.
So the bottom line is this: Investors are desperate for new sources of significant returns. The goal is to reassure them and to attract investors in a market that is causing caution.
Despite the current bear market, this trend is becoming increasingly clear. Some are particularly exposed to this market today.
NFT, marketplace, Magic Eden, a serious competitor for Opensea?
The largest NFT marketplace on Solana (SOL) has achieved record performance, so yes, at this point we can say that this platform represents a competitor that OpenSea must take seriously.
But, can the platform really succeed in dethroning OpenSea? According to some analysts, it will be difficult.
Magic Eden recorded a trading volume of over $300 million. This platform makes every effort to offer users the best NFT projects on Solana. In addition, it provides NFT creators with great liquidity. Currently, this NFT marketplace based on the Solana blockchain (SOL) is valued at $1.6 billion.
Magic Eden recently announced that it will soon be available on the Ethereum blockchain (ETH). Therefore, we can talk about a platform that offers a serious alternative to OpenSea.
GameFi, the sector that best resists the bear market?
Nothing like a bear market to weaken centralized and decentralized finance. Except that, in the midst of this turmoil, one sector is doing very well: GameFi. Indeed, this sector is currently performing almost as exceptionally as in the past.
If you follow GameFi news, you will have noticed, the GameFi sector has been the least disrupted by the bear market.
In fact, it's safe to say that for blockchain-based video games, the trend is up.
We can also see that:
GameFi concentrates more than half of the blockchain activity.
According to DappRadar, investors saw the cryptocurrency market crisis as an opportunity to mark up their investments.
As a result, they have injected no less than $2.5 billion from April to June 2022 alone. With almost the same amount placed in the first quarter, at present, the $4 billion recorded in 2021 is already exceeded.
Stanger Things, what does it have to do with Netflix?
The relationship is direct since the platform
Netflix announced to launch a collection of 11 111 NFT on the theme of one of its flagship series: Stranger Things.
For those who do not know, it is a successful Netflix series.
It tells the adventures of a group of children in the small town of Hawkins in the United States.
Together, they will have to face supernatural events. And now they have their own NFT collection…
Thanks to Candy Digital, Netflix offers 11,111 NFTs.
This collection will delight the most dedicated fans of Stranger Things.
The NFTs are available as of Thursday, July 14, two weeks after the launch of the second half of Season 4. The Upside Down series includes 17 limited edition digital posters of key characters from the series, including Eleven, Will, Dustin, Eddie, Steve and more.
As with other NFT samples, buyers of the Upside Down series will not know which character poster they have purchased until they open the "Mystery Box."
The most wanted person in Europe and the world for cryptocurrency scams, is it a man or a woman?
On June 30th, the Federal Bureau of Investigation (FBI) added Ruja Ignatova to its list of most wanted fugitives on 8 counts.
This means that Ruja Ignatova enters the Top 10 Most Wanted Fugitives, along with Arnoldo Jimenez, Alexis Flores and Rafael Caro-Quintero.
What did she do?
She took $4 billion from people who put their trust in her fake cryptocurrency called OneCoin.
Ruja Ignatova was able to seduce investors at the time. She was able to fill rooms like the Wembley Arena in London.
This, among other things, contributed to the massive influx of customers into her in-between. In 2016, OneCoin had about 3 million investors.
Namely, a reward of 100,000 dollars will be offered to anyone with information that could lead to the arrest of Ruja Ignatova.
Remember? She managed to swindle 4 billion dollars from those who invested in OneCoin.
Les influenceurs ont-ils un effet positif ou nocif sur les investisseurs ?
On peut dire qu'en général ils ont une influence plutôt positive, sauf que, quand cela dérape, cela se voit, et ça peut faire mal.
Certains influenceurs peut scrupuleux peuvent très bien acheter une crypto et s'arranger pour faire monter le prix en utilisant des arguments qui dépassent le bon sens.
Ils manipulent des informations véridiques en les sortant de leur contexte.
Il faut comprendre que dans le domaine des cryptomonnaies, il est possible pour un influenceur de gagner rapidement de l'argent, beaucoup d'argent.
S'il achète au tout début d'un projet un token et qu'il a une communauté assez importante, il peut réellement influencer le cour de ce token. Une fois qu'il a réussi son coup, il lui suffit de revendre ses tokens. Le projet en question étant nouveau, il a en général peu de liquidités et donc sa revente fait s'écrouler le prix du token en question, et sa communauté se retrouve prise avec un token qui a divisé par 10 ou bien plus, et ceci en quelques heures, pour ne pas dire moins. Alors prudence, quand vous suivez les conseils des influenceurs.
Bear market, it's not bad for everyone
We always talk about the companies that are doing badly because of the bear market, but rarely do we talk about the ones that are doing very well even in the bear market and sometimes we can even say that they are taking advantage of the bear market.
Here are two examples, the first with Nested which specializes in social trading and allows novice traders to give themselves a better chance of winning their trades by following, copying professionals.
We can also talk about the decentralized trading platform gTrade which allows traders to trade without sending their money to a broker, which in these times is a guarantee of more security for traders. No one wants to take the risk of having their assets blocked by a trading platform, and this ecosystem meets this need exactly and is gaining more and more followers.
So, yes, there are many examples of companies that thrive in a bear market, and in general, they have been able to respond to specific needs that are important to their users.
Latest news, Visa launches crypto cards in Latin America
Visa has announced partnerships with several fintech startups in Latin America.
Obective:
Launching a series of crypto credit cards making it easier to make payments in cryptocurrencies.
Indeed, Visa has announced collaborations with various fintech companies and IT startups in Brazil and Argentina, including Satoshi Tango in Argentina, and other startups like Crypto.com, Alterbank and Zro Bank in Brazil.
This will allow users to make transactions with Visa cards and receive cryptocurrency cashbacks every time they spend.
It should not be forgotten that bitcoin continues to attract, for example in Argentina, an ever-increasing part of the population that seeks to fight against the growing inflation in the country.
Wouldn't a drop in Bitcoin be desired by some whales?
Bitcoin (BTC) is currently in a downward trend for the past few weeks and is currently in a range, with the price oscillating between $28,000 and $32,000.
Behind this trend, however, would be a desire of the whales to strengthen their stocks of digital assets in order to create a new dynamic in the market. At least, this is what several professionals in the cryptocurrency market think.
Latest DeFi News:
Crypto special, let's take a look at what's going on with Bitcoin, knowing that it then carries over to the crypto universe as well as in DeFi related projects.
The whales, the big investors take this drop as a bargain. They take advantage of it to accumulate Bitcoin at a good price.
This also means that the new trend of mega whales could have remarkable effects on the price of Bitcoin (BTC).
This could be a sign that investors are going to be very interested in bitcoin (BTC) in the coming months, which will only strengthen its value.
Which mega whales are on the move in the BTC market and increasing their stock?
We can mention Michael Saylor's company MicroStrategy. It is an important player in this field. As of April, it had bought 4,167 BTC, or $190.5 million. Alongside it are other companies such as Binance, Bitfinex and OKEX.
The drop in value of BTC does not cool the willingness of the mega whales to increase their stock. They continue to buy BTC so that today they hold almost 12% of the total supply in the market.
Analysts believe that this trend allows them to see a positive future for the cryptocurrency.
Some sharks have crept into the crypto world, sometimes you spot a new one, would that be the case with Do Kwon?
Do Kwon is said to have regularly sent huge amounts of money to unknown addresses. Worse, he would have done so just before the collapse of Terra Luna.
In fact,
he could well be blamed for having repeatedly sent the sum of 80 million dollars on unknown wallets, this before the fall of Terra Luna.
We discover with amazement that Do Kwon, since a few weeks, even months, would have made very doubtful transactions and with considerable amounts, amounting to several hundreds of millions of dollars.
The latter, however, is seriously starting to accumulate investigations on his person and on the companies linked to the Luna classic, Luna 2.0 and UST tokens.
In the last few hours, new damning revelations have been made by members of TerraForm Labs itself.
These employees have confirmed to the SEC (Securities and Exchange Commission) that every month, 80 million dollars were redirected to unknown wallets, and this for several months before the crash of Luna first version and the UST.
These multiple money transfers would have started a few months before the crash of stablecoin and the ecosystem's flagship currency, thus further raising suspicions of money laundering or premeditated capital flight.
What if these transactions simply revealed that Do Kwon was aware of the impending implosion of the entire Terra ecosystem and that this situation guided his actions? The SEC is rightly wondering and wants answers.
Crypto trading and Forex, great contest on the decentralized leverage trading platform: Gtrade
Contest: crypto trading and Forex
Decentralized leveraged trading, two big contests with tens of thousands of dollars to be won, first contest is going on now, it lasts one month, you can still participate and the 2nd one will be on February and March, it will also last 30 days.
Here is the announcement made by the platform:
We are delighted to announce that Polygon is supporting the adoption and growth of gTrade, our decentralized leveraged trading platform, with a $250k grant in MATIC tokens targeted for trading incentives.
Latest DeFi news related to trading
We mean the only decentralized leveraged trading platform that supports 43 crypto-currency pairs and 10 currency pairs and charges no funding or borrowing fees to keep trades open.
In fact, trades have no impact on the platform's prices because it uses a synthetic architecture connected to a custom Chainlink decentralized oracle network offering real-time medianized spot prices, which also filter out bad volatility or "ripoff streaks."
NFT news, this time the NFT boom is coming to the photo world
NFT news, it is now confirmed, the NFT boom continues to explode, reaching the world of photography.
Digital images are finding new life and value as NFT.
In fact, the NFT boom is no longer just a sensational explosion, but rather a new reality for digital creators.
In the photography world, new collectives are forming and photographers are interacting with digital images in a whole new way.
Photographers are accustomed to selling pieces as "editions", which may be open or limited. This increases the rarity and value of their work. Photography NFTs take on the ability to produce images in open or limited editions, but with the added value of traceability and non-mutability.
This inherent feature of NFTs prevents photo forgeries, as has proven so valuable in the fashion world.
Big names in the art world use NFTs for their photos: for example, the photographer Aimos Vasquez or the representatives of the famous fashion photographer and former creative director of Chanel and Fendi, Karl Lagerfeld, had hundreds of thousands of image catalogs transferred to the blockchain.
Mastercard wants to offer a true advisory service to its customers for cryptocurrencies and NFTs
Indeed, the giant Mastercard has announced the extension of its advisory service to cryptocurrencies as well as non-fungible tokens (NFTs).
Still aiming to position itself in the cryptocurrency sector, the company wants to support merchants who need help in adopting this new technology as well as digital objects.
The idea behind this support is to allow the creation of synergies around cryptocurrencies. This can be the creation of a loyalty program, or the implementation of a new payment method.
"This evolution of consulting is a recognition of the changing world and our business. It's about helping customers navigate today's challenges and anticipate tomorrow's," said Mastercard Data Services President Raj Seshadri.
In addition to this goal, Mastercard plans to assist central banks in their thinking about creating central bank digital currencies (CBDCs).
In fact, the payment giant launched a test platform for such digital currencies in 2020.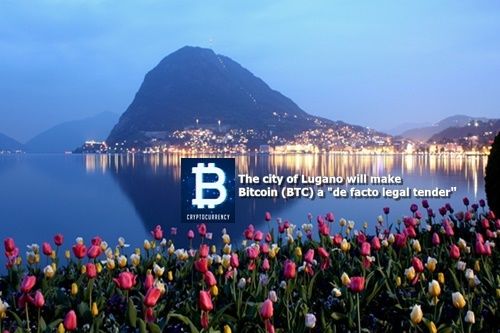 Bitcoin, legal tender in Lugano (Switzerland)
After El Salvador, it was not expected that Switzerland would react so quickly and that Bitcoin would become de facto legal tender in Lugano, a city located in Ticino.
Lugano will become a very attractive city, a new place in the world to live in crypto.
Indeed, the city will become a major center for the adoption of blockchain in Europe" and promote it at the local community level.
For example, everyone will be able to pay their taxes in Bitcoin or pay businesses, restaurants and others in cryptos.
Michele Foletti, mayor of Lugano, wants her city to become a model for global adoption of cryptocurrencies.
Note that this one started with the adoption of a digital token and a token that modernizes local loyalty programs.
DeFi, balance sheet for about a year, the figures
Let's talk about DeFi, what the numbers tell us about 365 days.
Indeed, it is impossible to talk about the state of decentralized finance news without giving a numerical update of the situation.
Latest DeFi news about the state of this ecosystem
Due to precarious macroeconomic conditions accelerated by Russia's invasion of Ukraine in February, risks such as stocks and crypto have trended lower throughout 2022.
However, one crypto niche has suffered longer than the rest of the market: the DeFi tokens.
Here are three significant facts:
Crypto's DeFi sector has been trading in a bear market for more than a year, with many of its major projects falling more than 80% from their all-time highs.
MakerDAO, Aave, and Uniswap have traded lower over the period, despite maintaining or improving fundamentals.
The second largest lending protocol, Compound, lost 92.5% in value and arguably deteriorated in all areas of fundamentals.
We can only note one thing, after such drops, those who believe in crypto, DeFi, will be able to make excellent deals and will certainly count on this significant drop to make a small fortune in the future, because there is no shortage of opportunities for those who believe.
Quels sont les 5 tokens qui pourraient être les plus prometteurs?
L'un des secteurs émergents dans l'espace blockchain, la finance décentralisée (DeFi), est un protocole basé sur la blockchain qui existe pour éradiquer les tiers comme les banques et les institutions financières de toutes les transactions financières.
Cet article vise à fournir aux utilisateurs une vue détaillée des cinq meilleures pièces DeFi disponibles sur le marché ainsi que la mention de la meilleure plateforme de trading décentralisée pour ceux que cela intéresse, pour ce faire retrouvez dans votre langue préférée l'article : decentralized trading platform.
Voici les cinq jetons que je recommande :
DeFi Coin – La meilleure pièce de monnaie DeFi à acheter.
Fonctionnant sur la Binance Smart Chain (BSC), DEFC est le jeton natif de la bourse DeFi Swap. Après la mise en service du DEX (échange décentralisé) de DeFi Swap début mai 2022, le prix de la pièce DEFC a connu une hausse exponentielle.
Le 5 mai 2022, la pièce DeFi a rapporté 5 fois son prix, passant de 0,1 $ à un maximum quotidien de 0,5643 $.
Lucky Block – Nouvelle crypto-monnaie de jeu à surveiller
Mana – Projet DeFi pour investir dans le metaverse
Uniswap – Meilleur projet DeFi et fournisseur de liquidités
Yearn Finance – Gagner des intérêts et contracter des prêts en utilisant DeFi.
Although there are new DeFi coins launched all the time, I see DeFi Coin as a very promising coin in the future, so you can make up your own mind.
Latest news DeFi, where are we in cryptocurrency payments?
Latest news about the possibility of paying online with cryptos:
Shopify to offer users the ability to pay in crypto through an alliance with crypto.com
Here it is, Shopify customers can now pay in cryptocurrencies.
Shopify has just joined the list of Crypto.com Pay partner companies.
This partnership will also allow Crypto.com to expand its user base.
This is a win/win deal, as this new partnership could help Shopify grow its business, attracting more merchants to its platform. As a result, this could boost crypto adoption, as remember, Shopify has over a million registered stores worldwide.
This will allow the cryptocurrency to grow faster on a large scale and for Shopify to attract new customers as well.
Unprecedented crash in cryptocurrencies, the consequences are starting to be felt
The Terra ecosystem, one of the largest DeFi projects, has collapsed in a matter of hours. This caused an unprecedented crash in the entire crypto universe.
Many consequences resulted, here is another example with CommBank, Australia's largest bank issuing doubts about cryptocurrency trading.
For the head of CommBank as well as for many crypto users, digital assets represent a huge interest. However, the high volatility and lack of regulation makes this area risky and unreliable.
In short, nothing is lost. Indeed, the cryptocurrency crash has a major impact on the various stages of digital asset adoption. Australia like the other countries that gathered in El Salvador, recognizes the interest of cryptos and is looking for a way to regulate their use.
Binance follows the adoption of Bitcoin in El Salvador and goes even further…
Binance, one of the world's leading cryptocurrency exchange platforms, through the involvement of its founder, Changpeng Zhao, could concretely promote the adoption of Bitcoin in the country.
Indeed, Changpeng Zhao, recently arrived in El Salvador to exchange with the government. The leader of Binance and has planned to meet with Nayib Bukele in this late March 2022.
Changpeng Zhao can be said to be fully supportive of all the economic freedom that the adoption of Bitcoin brings to a country like El Salvador, especially through the bonds backed by the country's Bitcoin reserve.
Here is an excerpt of what he said on the subject:
"I believe that El Salvador is a country […] pioneer in this industry. In a few decades, we will look back on this presidency as a heroic presidency for the financial future."
As for El Salvador's Bitcoin bonds, they were supposed to be issued in March 2022, but in the end will take a while longer, perhaps until September 2022. Other priorities being on the agenda right now.
Staking on Coinbase, let's take stock of the situation
In fact, the exchange platform Coinbase is currently diversifying not only the cryptocurrencies offered for exchange, but also its staking services.
It's Cardano's ADA's turn to be concerned: users will now be able to generate rewards directly from the app.
Here is what we can say:
Coinbase announced the arrival of ADA staking today, via a statement. The exchange explains that the aim is to offer an easy-to-use service, which allows the greatest number of people to have access to it.
Staking on Coinbase with Cardano, what is the return?
The platform states that annual returns are estimated to be around 3.75%.
Users start generating rewards after 20-25 days, and these are then distributed every 5-7 days. On Cardano, locked ADAs are not blocked: they can be withdrawn at any time.
Remember that Cardano is the 5th network with which it is possible to make staking on Coinbase, the platform having already added Algorand (ALGO), Cosmos (ATOM), Ethereum (ETH) and Tezos (XTZ)
Latest News: Metaverse and Music

The Sandbox and Warner Music Group sign a promising partnership
Indeed, we just learned that the Sandbox (SAND), one of the most popular and developed metaverse, has partnered with Warner Music Group (WMG) to create the first music-themed virtual world.
We are talking about an agreement that unites two big names, each one being a major player in its field. Let's remember that Warner Music Group includes many labels hosting artists such as Bruno Mars, Ed Sheeran, David Guetta, the Red Hot Chili Peppers, Coldplay, Dua Lipa, Madonna or Wiz Khalifa.
Interesting tidbit for investors, The Sandbox will soon be holding a LAND sale during the month of March, which will offer music fans the opportunity to purchase land adjacent to that owned by Warner Music.
The Sandbox metaverse is proving to be a particularly interesting one for brands and artists. Warner Music Group joins more than 200 other entities, including The Walking Dead, Atari, Steve Aoki, Deadmau5 and Snoop Dogg.
The list is likely to grow quickly, and The Sandbox's competition with Decentraland, another metaverse in the spotlight, is expected to intensify in the coming months.