Infinitee is the solution for optimized yieldfarming, here's why? Discover the first optimized and flexible reward exploitation strategy for HODLER.
Infinitee, we find the best yield farming for your asset to maximizing the Rewards and using optimal times to convert rewards into BTC ETH BNB or whatever!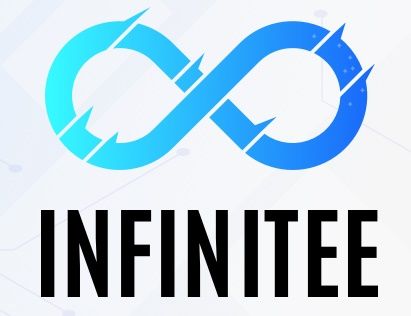 5 points to remember:
Sell Farm Token & Collect Long-term Token
You'll get the valuable assets (that you choose by yourself!) as a reward along with $INFTEE token in addition.
Vault Strategy
We find a platform that more valuable to yield farming or staking with little to no risk and autonomous change to the best strategy with *Infinitee Autonomous Strategy algorithm.
Auto Compound
Infinitee Finance maximizes yield returns on your asset by a vault strategy and compounding these an optimal number of times per day on your selected reward token.
Benefits for $INFTEE Holders
We aim to be the long-term Decentralized Autonomous Organization (DAO) with governance and protocol fees spread across all the holders.
Time-lock Contract
Use timelock in contracts that need to prevent the rug pulls.
Your concern is our top priority.
Infinitee, what makes the difference: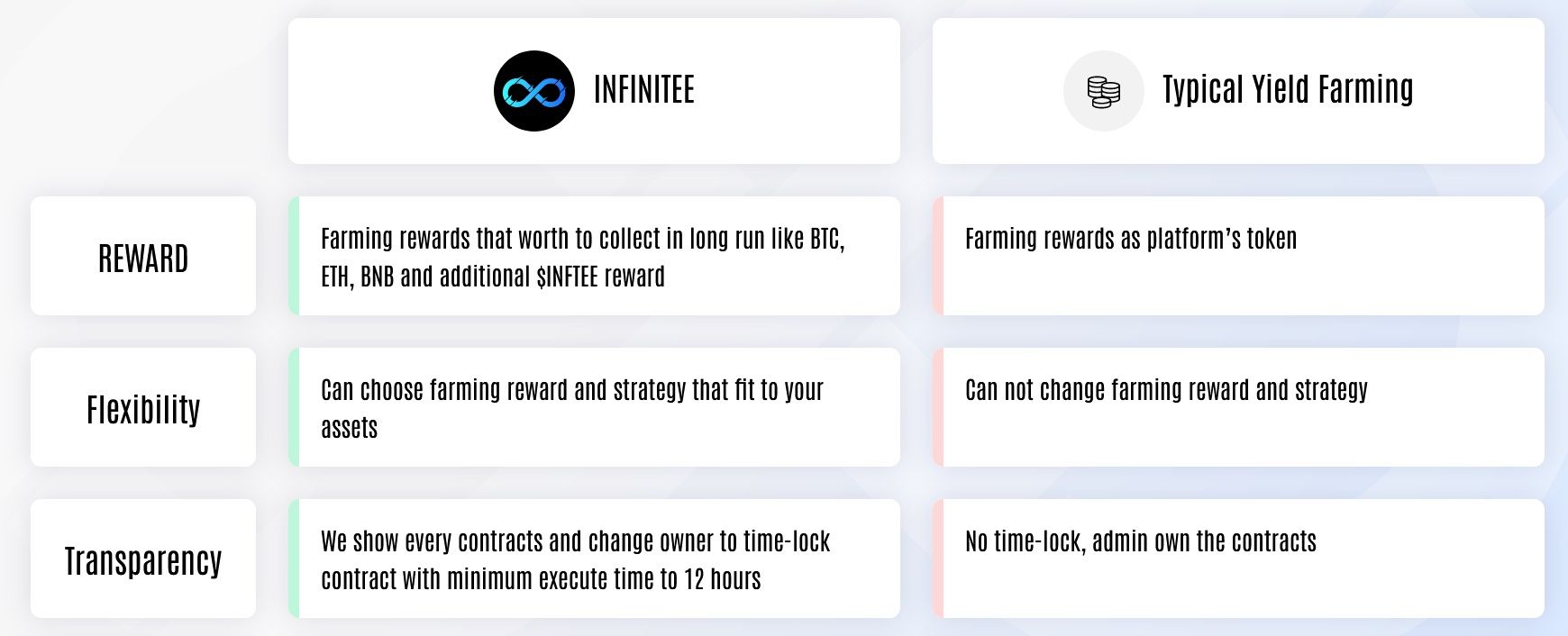 In the middle of De-Fi booming. Yield Farming and Liquidity Mining have taken the most space.
Generally, they (platforms like Pancake Swap, Venus, and more) make participants earn by distributing their's tokens in return when using the platform.
But if participants don't want to collect these long-term tokens… or if they just want to exchange the farm tokens for some sort of "long-term token" like Bitcoin, ETH, or whatever token they want to accumulate, what should they do? They have to do the work themselves, and that's time-consuming and not easy.
Infinitee, the right solution:
Infinitee Finance automatically sells farm token and buys your selected token (BTC, ETH, or any token that support) with optimal times to make sure you always get the best average entry price (concept like DCA).
So you get the valuable assets (that you choose by yourself!) as a reward along with $INFTEE token in addition.
Want to know more and optimize your returns?