Clock 24 (C24), what type of DeFi protocol is it? Protocol allowing the multiplication of invested assets every 10 minutes!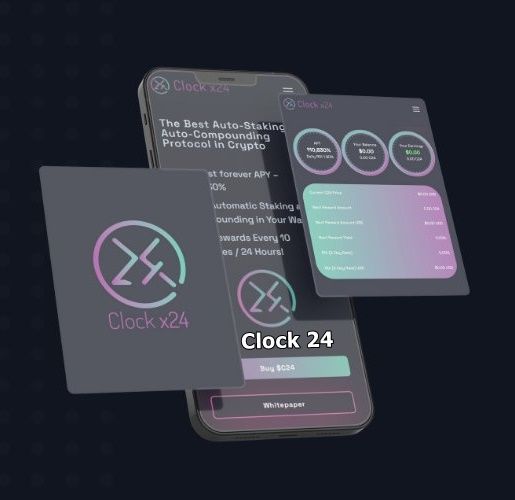 Clock 24 provides a decentralized financial asset which rewards it's users with 0.018%
increase in their assets, every 10 minutes.
The C24 reward generation is a unique protocol that has advanced profit making. The Clock x24 rewarding protocol generates and distributes a 0.018% reward every 10 minutes for all active users. The protocol equips RFI properties.
First Asset Multiplication Protocol – Get 0.018% reward in every 10 minutes – Auto Staking Upto APY: 1,284,615.72% APY!
This protocol is equipped with innovative technologies and features that other forks lack. It is specially designed to be automated and efficient.
Here is an ecosystem that will certainly mark the news of the DeFi in the near future, because it meets needs in high demand.
Utilities of Clock 24:
The C24 protocol has some utilities that distinguish this protocol from Olympus DAO forks. These differences also provide a market edge to Clock 24.
Here are some examples:
The $C24 is a native token on the protocol that also serves as the network's native currency.
native network currency. All rebase interest is paid in $C24 tokens as well as many other utilities in
this token.
The $C24 token is always kept in your wallet, so it is never given to a third party or centralized authority. All you have to do is buy and hold because you will automatically receive rewards in your own wallet, eliminating the need for any complicated staking processes. Through the automation of the entire procedure, all rewards from the staking pool are automatically transferred to your wallet.
CX24.io pays 1,284,615.72% APY. The distribution of all rewards are followed by an automated process so no user miss any payment.
Auto-compounding protocol:
The auto-compounding protocol of CX24.io pays users every 10 minutes in a day, making a total of 144 payments in a day. This figure makes CX24.io the fastest auto-compounding protocol on the network.
One of the most exciting aspects of the CX24 Protocol is an automatic token burn system known as "The burning Pit," which prevents circulating supply from becoming unmanageable. The burning Pit consumes 2.0 percent of all $C24 Token market sales and is consumed in a single transaction.
All of these elements have been coordinated by the Clock x24 development team so that they work seamlessly behind the scenes. As a result, $C24 holders now have a simple and elegant staking and rewards system.
Simply by purchasing and storing the $C24 token in your wallet, you can earn rebase rewards in the form of interest payments directly into your wallet. Every 10 minutes, your tokens will increase.