Bottlepay, the crypto and Euro payment app is now available in Europe, discover all its features and benefits.
Bottlepay, based in the UK, has started offering its services in other European countries. This means that throughout Europe it will be possible to send and receive euros, even small amounts, but also to buy, store and spend bitcoins at merchants accepting crypto-currencies.
Bottlepay's promise:
The Bottlepay app will allow Europeans to make instant cross-border payments using the eurozone's common fiat currency, the euro, as well as bitcoin ( BTC ). The startup, which launched its service in the UK earlier this year, promises to process these transactions in low-cost exchanges.
Our motto: your money, your rules
We're on a mission to revolutionize the way people do business around the world.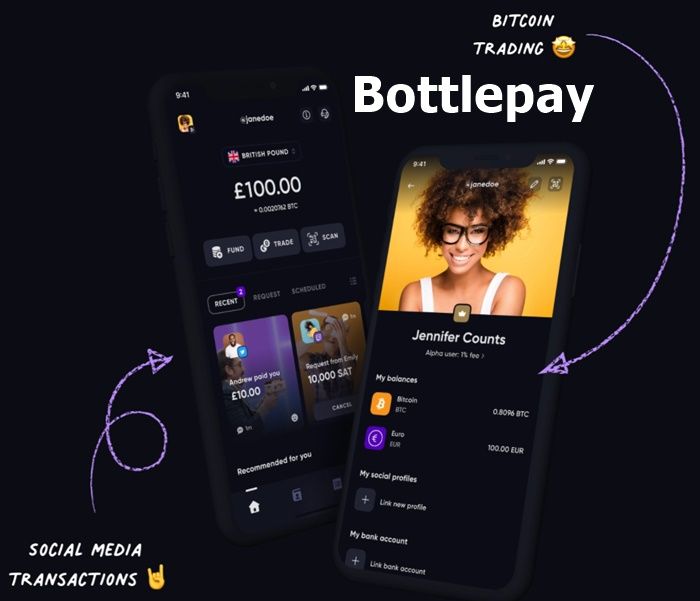 Send and receive payments in a way that works for you. We support bitcoin, sterling and the euro, but that's just the beginning.
Bottlepay, 4 advantages to remember:
Speedy sign up
No more waiting around or boring setup processes – get verified in minutes.
Move between currencies
Exchange GBP or EUR and BTC in any direction – easily, instantly, 24/7.
Cross-border payments
Send and receive money across Europe and the UK without the fees.
Bitcoin wallet
Store, send and receive bitcoin instantly via the Lightning Network.
With us, you will be able to buy and store bitcoins with a single click. You can also set up recurring transactions at intervals of your choosing. Whether you're new to the business or a seasoned professional, we have everything you need to meet your Bitcoin use and storage needs.
Bottlepay founder Pete Cheyne was quoted by Yahoo Finance:
Bottlepay is trying to rewrite the rules for cross-border transactions. Half a billion people in the U.K. and Europe can now make instant, cost-effective payments through a Bitcoin network-based payment app.
The platform supports orders via Twitter. Funds can be transferred with a simple command such as "@bottlepay send @recipient €10." Buying bitcoin with the bot is also simple. Tweeting "@bottlepay buy €10 of BTC" will immediately convert the fiat amount to crypto within your account. The company plans to offer the service on Reddit, Telegram, Discord, and Twitch as well.
Both Brits and other Europeans can use the application to make BTC payments at stores and online merchants accepting the cryptocurrency. Bottlepay facilitates Lightning Network transactions. Crypto users can also withdraw money from Bitcoin ATMs around the world.
Please follow and like us: