3rd generation crypto, what if it was Cardano, the long awaited solution? Let's discover together the 3rd generation blockchain.
3rd generation crypto, will Cardano be the long-awaited 3rd generation crypto?
For over five years, Bitcoin and Ethereum have dominated the cryptocurrency ecosystem.
The two behemoths crush all competition and together they still represent more than 60% of the crypto market in terms of capitalization.
However, Ethereum offers a certain flexibility and features that have already positioned it for a few years on the second generation of crypto-currencies.
Ethereum tries to reuse some concepts of Satoshi Nakamoto's invention while making it much more flexible and programmable with the famous smart contracts.
Vitalic Buterin and the entire Ethereum community only dream of one thing, to create the decentralized global computer running the internet 4.0.
The slow transactions with Bitcoin has benefited Ethereum, but also others, and the most promising is Cardano.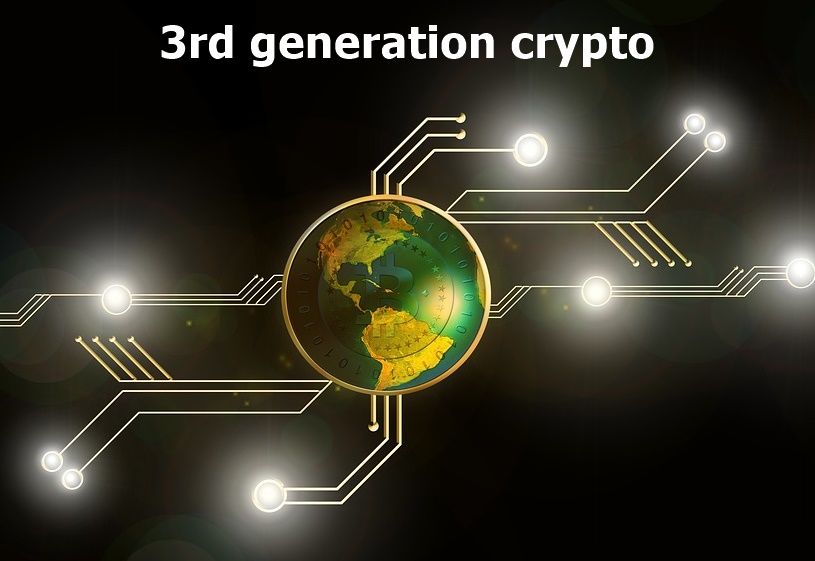 Cardano, the 3rd generation crypto:
The objection of Cardano's founding team was to put everything down, start all over again. This means creating a crypto from scratch based on all the experience gained with Bitcoin is Ethereum and developing on this basis the third generation of token, Cardano.
Cardano, brief summary of its history:
After its launch in September 2017, Cardano's ADA token remained mostly under the radar of traders until late November.
Since then, the crypto-currency has jumped 1,520 percent. With a market cap of $18.8 billion, Cardano is the fifth most valuable crypto-currency at the time of writing.
Despite becoming very popular over the past couple of years, most crypto-currencies have experienced chaotic growth trajectories.
Scandals, hacks, and disagreements that have led to difficult forks have given their ecosystems a bad name.
Cardano is a blockchain project founded by Charles Hoskinson, co-founder of ethereum, to "provide a more balanced and sustainable ecosystem" for crypto-currencies.
According to its website, ADA is the only currency with a "scientific philosophy and research-driven approach."
In practical terms, this means that its open-source blockchain undergoes a rigorous peer review process by scientists and programmers in academia.
When we talk about cryptocurrency, we have to clarify again and again that we are talking about ASA which is the crypto-currency behind Cardano, it is ADA that is used in order to send and receive digital funds.
ADA characterizes very well what could be the digital money of tomorrow. ADA allows fast direct transfers with guaranteed security thanks to cryptography.
To use ADA, investors must use the Daedalus wallet, which is a deterministic, cross-platform, secure hierarchical wallet designed specifically for this cryptocurrency.
The wallet is simple to install, and it allows you to view everything and even search for transactions. You use it to view specific information about the status of the blockchain.
The technical arguments in favor of ADA, its usefulness, its performance are no longer in doubt, but what about its value, is it worth investing in ADA?
Cardano's ADA, up 7,400% since last year, is now the 3rd most popular crypto-currency in the world. Why is it called the "Ethereum killer?" That's what we're going to find out.
3rd generation crypto, why Cardano represents the future of cryptocurrency?
Cardano was the first blockchain to be peer-reviewed and developed by academic experts in the field.
From the start, Cardano distinguished itself from other blockchain projects. Instead of publishing a white paper, Cardano adopted a collection of unique design principles, engineering best practices, and created pathways of continuous exploration to achieve its goals. This decision has allowed the Ethereum challenger to gain global notoriety in just a few years. The project remains fully open source and unpatented.
High fees have been a limiting factor for the DeFi space. While the appeal of these projects is growing with record locked values, Ethereum's gas fees have made it an expensive venture. Cardano aims to solve this problem and more with its Mary update.
Cardano developers can now create custom tokens or import projects from other blockchains into the Cardano network. This could be beneficial for new and interesting projects like those in the DeFi and NFT ecosystem.
Will Cardano's upgrade finally make this former outsider a serious competitor to Ethereum? As Cardano innovates, other blockchain platforms, including Ethereum, are racing to solve problems such as scalability and sustainability.
As for its price, there is no doubt that ADA advocates see it going quickly to $4 in the coming months and much higher thereafter and that's okay. No one can tell you what you should do, it's up to you to make up your own mind and above all to invest in a project or projects that you believe in. This is the purpose of this article, to allow you to better appreciate the Cardano ecosystem and to continue to inform you so that you can invest with full knowledge of the facts.
Please follow and like us: