GranX project, what is it? It is a platform that specializes in biometric identification and its token $GRANX.
GranX provides Biometric-identification-based ID authentication services. GU-ID has the uniqueness to prove yourself (user) and provides high security to ensure safe information asset management and financial transactions (payment services).
What exactly is the GranX project?
The GranX Project is …
Using the unique, unique identity of the user
1. Improve the financial services environment that is unreasonable to users.
2. Returning ownership of personal information assets to individuals.
3. To provide user-centered authentication/payment services.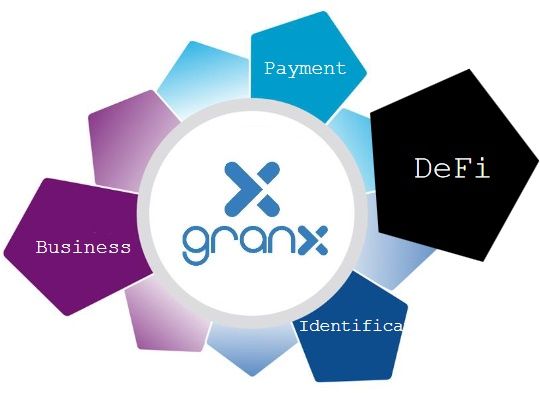 Its goal is to implement blockchain-based global financial platform.
We also want to provide a service implementation environment for dApps who want to participate in the platform ecosystem, build a diverse and rich service ecosystem, and create an ecosystem that enables rational services and compensation between users and service providers.
GranX provides biometric-identification-based identity authentication services. Biometric-identification-based IDs are IDs generated based on user's own biometric information, which ensure the only uniqueness to prove me (user) and the safety of managing information assets and approving various transactions with high security.
It is also possible to incorporate both fragmented and information assets that exist offline into biometric-identification-based IDs using biometric-identification-based ID characteristics that guarantee uniqueness and uniqueness.
GranX provides such a unique and uniqueness-based identity authentication service, providing users with a secure and convenient authentication service, and online/offline service providers with a service environment that can be free from the responsibility of managing personal information assets.
With the launch of blockchain, GranX Card, GU-ID-based ID authentication platform, and payment services, GranX aims to build a business model with reduced cost from a lack of trust through the expansion of electronic authentication ecosystem.
GranX marks the news of decentralized finance with its innovative project that meets a precise and important need so that DeFi can develop more serenely.
Decentralized Identity / Business model based on data technology
■ GU-ID Payment Service
Unique GU-ID and various payment information are organized into Payment IDs to provide payment services only with GU-ID and Payment ID, without the need for a transmission of financial information held by individual users. No transmission of personal and financial information is required, and various interfaces and robust information security are provided using the closed digital device Gran card.
■ Self-sovereign Identity Wallet
Based on cooperation between various private platform providers, telecommunications/financial operators, build 'GU-ID' reference. Provide a platform and API that fits business characteristics of mobile services which demonstrate 'identity/qualification' on and offline.
■ Simple Payment Service
Based on strong user identification with GU-ID, various digital payment services owned by users and payment services are provided by creating and storing credit cards as software tokens. GU-ID platforms and token server APIs are provided to various private platform payment services.
GranX, 3 points to remember:
1. Self-sovereignty
It is not a matter of identification by a third party, but the participants themselves demonstrate and certify their identity. Ownership of personal information arising from the use of various services is transferred to the individual.
2. User-Centric
The company implements a platform environment in which various user-centered services can be provided by improving the unreasonable service environment that occurs when individuals participate in business-led services.
3. Blockchain
Using the de-centralization characteristics of blockchain, between people, objects and objects, It redefines trust in interactions and changes various industrial ecosystems such as security, certification and finance.
GranX Token Allocation

GranCard
GU-ID-based payment service
GranCard provides blockchain payment services using GU-ID and GP-ID created using GranCard as a medium for generating and storing GU-IDs, It provides a standard payment service interface for more convenient daily payment service access. (Credit card and transportation card payment, etc.)
DID (Decentralized Identity) service is a service in which individuals, not centralized institutions, directly manage their data.
Due to the nature of a self-sovereign service, personal information is not fully disclosed when using the service. Only information necessary for authentication can be selected and submitted according to the user's preferences.