Tron, will it be the future leader of the GameFi ecosystem? At Tron we believe in the success of GameFi for several reasons, discover them now.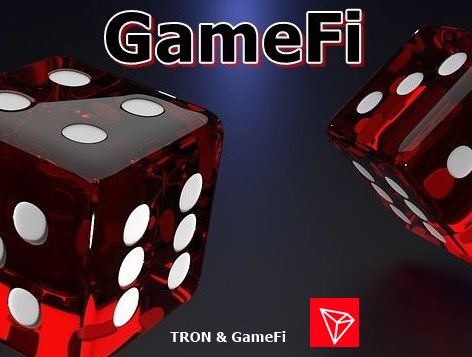 Tron which was created by Justin Sun is a decentralized, open-source blockchain-based operating system with smart contract functionality, proof-of-stake principles as its consensus algorithm and a cryptocurrency native to the system, known as Tronix (Wikipedia).
Tron particularly believes in a strong development of GameFi, but before going any further, it is good to put things in context.
Since the end of 2019, DeFi, which is growing tremendously thanks to the Ethereum ecosystem, has been steadily growing and making news.
As a reminder, this ecosystem combines traditional financial services and decentralization solutions offered by blockchains.
However, this ecosystem could be overtaken by a new trendy phenomenon: GameFi.
What is GameFi in practice?
GameFi gives rise to games in which users can earn income by playing.
Like free-to-play we now find play-to-earn mechanisms, literally meaning "play to win" (in this case, cryptocurrencies).
This new ecosystem combines the world of video games and DeFi. In short, it is the result of the gamification of financial mechanisms.
GameFi is about leveraging gamers' interest in play-to-earn monetary mechanisms, which make it fun to earn profits in different activities, with corresponding values. The value lies in the concept that "playing" games turns into "work", which rewards players with digital assets that have real value, according to TRON's statement.
Does it have a bright future?
If we believe the performance of CryptoBlades, which is hosted on the Binance Smart Chainm, we can answer without hesitation in the affirmative. Indeed, more than 681,000 players worldwide played on CryptoBlades over a period of 30 days.
Its competitor Axie Infinity on Ethereum, on the other hand, would count 298,000, which created a daily volume of more than 27 million dollars.
What does TRON's founder think?
GameFi is going to be the next big thing that makes DeFi, NFT and the broader crypto space easy to understand and engage," said Justin Sun, TRON founder and BitTorrent CEO.
Tron (TRX) is all about the games:
Tron founder Justin Sun expressed his thoughts on the GameFi ecosystem and its upcoming developments:
"GameFi is going to be the next big thing that makes DeFi, NFTs, and the broader crypto space easy to understand and engage […] Tron is excited to partner with APENFT and WINKLink to build a robust GameFi ecosystem that is accessible to everyone."
This explains why the Tron Foundation, the foundation behind the eponymous network and cryptocurrency, has decided to create a $300 million fund that will allow for the funding of GameFi and NFT projects on the Tron platform over the next 3 years.
Tron has dedicated a fund of over $200 million to empower developers to create GameFi projects. The goal is also to build communities accessed on DeFi content and entertainment.
Want to know more about TRON and its projects?