nOFTEN, what is it? Celebrity NFTs Marketplace | Experience what's Not so Often! Information and direct access to the official site.
nOFTEN is a celebrity-fan centric NFT marketplace to cater the established and upcoming artists with a platform where they could meet their dedicated fans, reveal exclusive content in the form of NFT.
This project marks and will mark for a while the news of the NFT, discover why?
The goal is to build a sustainable and elusive platform where artists can freely express themselves in front of real fans, interact with them, offer their most unique goods and foster a new digital way of building community.
nOFTEN, who is it for?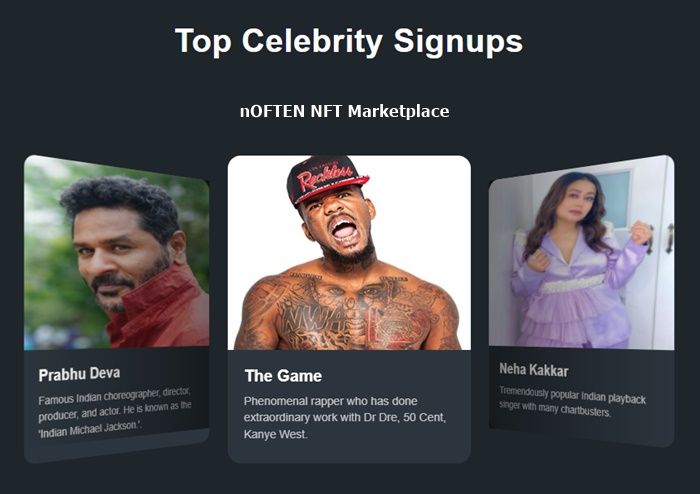 Celebrities from all fields of life such as Hollywood and Bollywood Actors, Independent Singers, Rappers, Cricketing Superstars, Fitness Experts, Stand-Up Comedians will join the platform as creators, oering some sort or other content for people to acquire them in the easiest way possible.
Super-Rare and Unique:
nOFTEN brings a platform for artists & celebrities to share their raw vibe and artistry to the world without borders.
A busting NFT marketplace, putting pedestals for Global Celebrities, Independent Artists and Sensational Creators to build first-hand experiences for their community.
The digital content will be a varied nature to serve to the humongous fan-base such as a personalized video, a new song, Celeb Dine-In opportunity, Video-Call opportunity and other exclusive experiences.
nOFTEN is a haven for Celebrities to introduce their collection of artworks, in any shape or manner, or once-in-a-lifetime experiences.
This platform without the fear of being scammed or charged through the roof.
All of the NFTs created will be supported by the most-powerful blockchain network Etherlite.
Incorporating these along with an intuitive website will help the whole community to come together and trade with ease.
As we move towards the age of blockchain, nOFTEN will become the beacon of transformation, adaptation and technological brilliance for the Celeb-Fan community.
How nOFTEN will work?
nOFTEN will act as an independent platform, bringing the likes of both; creators and their fans around the world together to exchange irreconcilable assets.
All sustained in the most prolific manner to oer authentic pieces, engulfed in blockchain and real emotions. At nOFTEN will present a variety of NFT auctionables unlike anything the world has seen before. It will consist of everything from an original song, unreleased behind the scenes, short movies, Celebrity memorabilia.
What's most distinguishable is that Creators/Celebrities joining the nOen platform will also be able to create special curated live events such as live meet, dine-in chance, a video call, personalized message video and much more with the whole community.
Users on the platform will have open-access to all the listings oered by the creators. They can indulge in a bid for any asset, directly own it by buying the piece or sell-o their previously bought NFT comprehensively. Apart from this users will also be able to buy single copies of a unique model.
The constituents of NFT will again be atypical of any other platform. With this ecosystem, Creators will be able to curate real-live events or experiences for their die-hard fans that could be unlocked in an open time-bound bidding war. This will bring a whole new dimension of celebrity-fan engagement, in the consensus authority of this ecosystem and its protocols to serve a unique use case for NFT.
Please follow and like us: