H2O Securities, what does this ecosystem offer? Here is a global Water Finance DeFI initiative. Discover its characteristics and direct access to its website.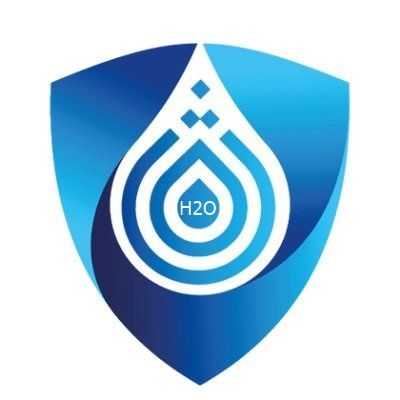 H2O Securities has developed the H2O Water Network.
The H2O Water Network is an innovative solution that combines finance, infrastructure, expertise and interested participants in the deployment and operation of water plants globally.
This ecosystem modernises financing, deployment and operation of water plants through the use of blockchain technology, the H2ON Token and smart contracts.
When the news of decentralized finance is marked by innovative projects and allowing to better exploit the resources of the planet, then we are happy to participate. Here are the characteristics of this ecosystem in more detail.
H2O Overview:
H2O Water Network participants can use the H2ON tokens they hold to connect other water treatment plants to the H2O Water Network, add water system services, and purchase/pay for services connected to the H2O Water Network.
Connected services include, but are not limited to, engineering services, consulting services, maintenance, water treatment, operations, operations training, staffing, insurance, risk management services, surveying, data management, equipment and supplies.
Target set::
SOLVING WATER SCARCITY with blockchain technology
The network's water plants are connected via IoT (Internet of Things) to the blockchain and controlled by immutable smart contracts. The goal is to globally connect more people to drinking water (water for drinking), faster and more cost effectively. H2ON token provides access to the H2O Water Network and is a currency within the ecosystem in which network participants can participate and earn rewards based on their participation.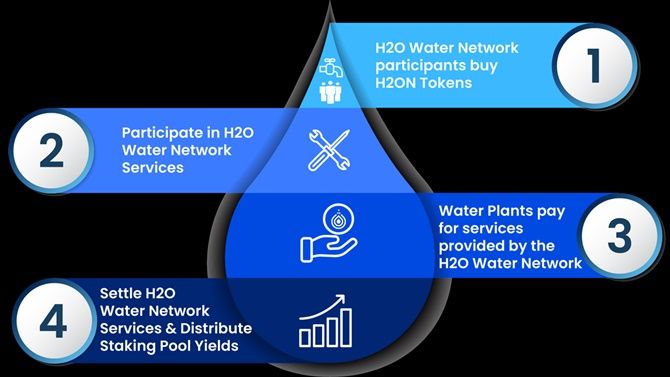 Globally there is a shortage of water and the scale of the crisis grows daily. Not only confined to developing nations, global water scarcity is affecting the entire world. It is critical to address the need for accelerated investment in water infrastructure in order to meet the growing global demand for water. Despite the availability of new technology that is capable of accomplishing this, the adoption is unfortunately at a much slower rate than is necessary. The main reason for the slow rate of adoption is that new technology is rarely tested in the field. As a result, governments and financial institutions are hesitant to implement new unknown risks associated with technology that is expected to last 15 years or longer. This is one area where the H2O Water Network can make a significant impact, by enabling new technology to be connected to its ecosystem.
Imagine a world where cutting-edge technology – not just engineering, but also new finance technology such as DeFi and Tokenization – can be combined to produce more water, quicker and at a lower cost.
The time is right for a truly innovative and disruptive water ecosystem that consists of networked participants that collaborate to build an environmentally sustainable global network of water infrastructure. This is possible with the H2O Water Network. It is a place where Human Need, meets Cryptocurrency, meets Environmental Sustainability and Global Participation.