Metaverse World, the open source web3 metaverse game engine that anyone can host. Here are these characteristics and the direct link to access this ecosystem.
Metaverse World is creating an open virtual world where users can build and monetize real-time immersive gaming. Uniquely, all users' content is created as operable tokens on the Binance Smart Chain blockchain.
Creators can drag-and-drop assets (images, 3D models, avatars, scripts) into the game in real-time to showcase and monetize their creations. Users can buy parcels of land on which to persist content. The parcels are embedded in an expanding overworld hub curated by the Metaverse World team.
Metaverse World builds on years of experiments to present a clear path for creators to monetize virtual world creations while being incentivized to interoperate.
Technologically, we operate an Binance Smart Chain sidechain to enable fast, feeless transactions and monetization within the game world. The game feel is inspired by Fortnite and is accessible in the browser. VR is supported.
This is the first time in the Metaverse news that we talk about a project of this type. Indeed, it will be possible from now on to create an open virtual world where users can build and monetize in real time.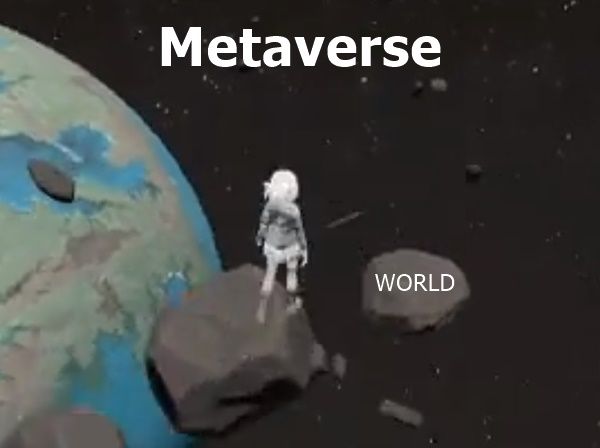 Metaverse World, what you need to know:
Users will own their items and identities across worlds.
Creators will be able to import, operate, and sell their creations on open, decentralized marketplaces.
Investors will be able to buy shares in the social capital of virtual worlds and have access to liquidity, backed by an active value economy.
For the first time, with Metaverse World, users will be able to create, experience, and monetize operable objects built on standard file formats through a familiar game interface: avatars, inventory, load-outs, and multiplayer parties. This strong foundation unlocks value by connecting communities in gaming, content creation, and blockchain technology.
Evolving World
The Metaverse World overworld is the entry point where users spawn. This overworld consists of contiguous virtual land on which entry-points to fully immersive experiences exist. The overworld can be freely navigated by the user's avatar and is designed by the team, providing a high-quality entry experience for users.
Metaverse World adapts the Seasons from Fortnite Battle Royale concept, which implements "seasons"4] of content that lasts for a limited period. Seasons introduce new themes and elements to the game, such as cosmetics, gameplay mechanics, and changes to the world map.
By analogy, Metaverse World development proceeds in seasons, which last ten weeks. With each season, a new area is unlocked in the overworld, containing World tokens that can be purchased.
Seasons provide release cadence to the project and provide a formal structure to the timing of promotional in-world events.
WORLD token:
Token Economics
Token :WORLD 100000000
Team:1000000(Locked for 1 year, released linearly in 3 months)
Marketing:500000
Development Fund:500000(Locked for 1 year, released linearly in 3 months)
Community Donation:1000000
Fluidity:1000000
Game Output:85500000(Locked for 1 month, and released linearly in 6 years)
Community:500000 NFT Staking
Reward:10000000(Locked for 1 month, linear release for 36 months)
Transactions happen on the Metaverse World Binance Smart Chain sidechain, which enables free, nearly instant transactions.