BUUN token from Business Universe. Discover the characteristics of the token, its advantages, its utility as well as the direct access to the website of the project.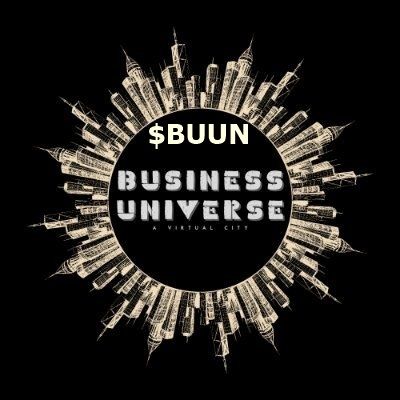 Buun token is the token of the Business Universe project which represents a virtual business world.
Business Universe is introducing you to a commercial virtual World. With the increasing population finance, logistics and supply problems are at the top point. We see this problem and we are developing several alternative virtual job modellings.
Business Model with Metaverse
Workplaces with Metaverse
Artificial intelligence business assistants
Fast logistics and supply
Commercial activities and agreements
All transactions happen quickly with BUUN Token
BUUN Token stability and continuous value enhancement with BUUN
Economy strategies
Systems are always the best with professional business and finance team
BUUN token, introduction:
It's a super deflationary token built on the Binance Smart Chain.
BUUN Economy is a Virtual and Independent Financial Management System.
BUUN Economy; It is a set of programs that aim to preserve the values of BUUN tokens and Business Universe workplaces and to increase their value continuously. It is aimed to continue to increase the demand for BUUN token price value and Meta Business office with new financial activities published regularly here. Financial stability will be procured in products. Returns can be
earned income through BUUN token reward systems, economic activities, and cloud mining.
Confirm All Deals In Seconds, With Confidence!
You had an uninterrupted and secure business meeting with the other company, supported by AI and language. We are soo happy about that.
Let's say you made a deal. Business Universe smart contracts will come into play when you want to make a deal on business. This smart contract will be signed between two parties with blockchain technology. It will be stored in the Business Universe database. In the commercial activity, the side that has to pay makes the payment with the Business Universe Token (BUUN), and the side that will supply the product or service specifies this in the smart contract.
Your Agreement with Blockchain Technology is Secure!
After this smart agreement, which takes place in a few seconds without the need for any physical operation, when the physical work is finished, the paying side approves the smart contract, and the side that will send the product or service approves the smart contract. All work is completed and controls are provided. After that, the smart contract transmits the token amount to the product or service provider. In this process, price movements on the BUUN token side can be protected by the product or service provider from the "BUUN Economy" section, price protection is guaranteed by Business Universe.