Weecoins, grow and win with robust projects guiding their market. Weecoins & Weecomi İnternational, discover our ecosystem and our token.

Weecoins stands for We Commission. The company aimed to use a unique discount card system around the world, based on a model that has been repeated many times and has been successful. Based on the developing technology, it transformed this system into a mobile application and made its use more attractive.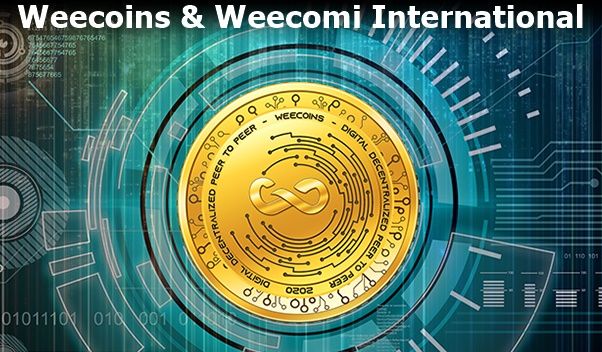 The Weecomi ecosystem has 3 different parts. The name given to our users who collect points by purchasing from contracted member companies in the customer system. The person who gives a discount to the Weecomi company at a certain rate in order to attract new customers to the SME Business.
Dealer is the name given to our users who connect merchants to the Weecomi system and connect customers to make purchases from the system. In the described system, by connecting a customer or member workplace, various earnings can be obtained according to the earnings plan. Weecomi brand,It is a joint brand of Azerbaijan and Turkey and started its activities at the same time as Turkey.
At present, it continues its official activities in 7 countries including Azerbaijan, Turkey, Russia, Ukraine, Belarus, Latvia, Lithuania and Tbilisi. With the contribution of our dealers, infrastructure works are carried out in new countries such as Kazakhstan, Kyrgyzstan, Georgia, Bosnia-Herzegovina, Germany and France, and a dealer network is established at the initial level.
Weecoins, from theory to practice:
We have created a mobile shopping platform and the first true business network. We will open a new era in the economy of today and tomorrow. Because Weecoins will be a marketplace. We will digitize businesses with local sales teams, call centers and local advertising.
The business network will be supported by online and mass marketing. As a Weecomi Mobile application, we will be a solution partner with payment systems and businesses in payment system pools will be potential Weecomi businesses. Different advertising strategies will be applied according to the culture and advertising structure of the city.
As Weecomi and Weecoins, we will be the partner and sponsor of events and organizations of non-governmental organizations and sports events at the national level.
Weecomi has ushered in a new era in retail
Turkish entrepreneur Özkan Cibir has launched the era of crypto-currency in the retail world. Hundreds of products, consisting of food, childcare products, cleaning and hygiene items, offered for sale on Weesale can be purchased with Weecoins.
Claiming that the platform that offers the possibility to make purchases with crypto money has opened a new era in retail, Özkan Cibir pointed out that Weecoins are one of the few crypto-currencies used to meet everyday needs. Weecomi International, the creator of Weecoins, one of Turkey's first crypto-currencies, has launched its own shopping platform, Weesale, for consumer use.
On the platform, which is a first, visitors can buy hundreds of products including food, childcare products, cleaning and hygiene materials with Weecoins.Weesale, which is the first e-commerce site offering the ability to shop with crypto money in Turkey, can also shop with the Turkish lira.
TURKEY WILL ALSO BE IN THE WORLD OF THE FUTURE WITH THE PROJECT With the growing popularity and functionality of crypto-currencies, many projects have also been implemented in our country. Weecoins, a digital asset project that stands out among these projects, is currently being used by thousands of people in the Weesale and Weecomi apps, just as Bitcoin has been adopted by many people in the past.
"Our project is of great importance for Turkey's presence and future in the digital world. Özkan Cibir, founding president of Weecomi International said, "
As a company, we planned to be in the world of the future with all its aspects. Our crypto-currency today is Weecoins,We are making a difference as the only national institution that provides a 360-degree service in this new world with Weeswaps, the platform where all kinds of crypto-currency transactions are carried out and Weesale, which offers the possibility to make purchases with crypto-currency.
There is no other organization in Turkey that offers all these services under one roof. used the phrases. WEESALE WAS A FIRST Pointing out that they stand out as the only platform with a buying platform infrastructure among digital asset projects, Özkan Cibir said: and so projects can fail. Our current location and infrastructure with Weesale is currently only waiting to reach more end users.With this platform where daily needs can be met, we will eliminate hesitation on the use of digital assets. he said.
MONEY ALSO USED FOR DAILY NEEDS: WEECOINS Pointing out that Weecoins is one of the few crypto-currencies used to meet daily needs, Özkan Cibir said, "With Weecoins via Weecomi, users can make their daily purchases such as airline tickets, hotel reservations and online shopping using crypto-currencies on one platform.
We serve as an official company in 8 countries, including Turkey, Russia, Ukraine and Kazakhstan. Currently, about 270,000 customers use these services in more than 10,000 contracted stores. There is an indirect relationship between the use of digital assets and value appreciation.At this point, we are witnessing an increase in prices from $0.08 (USD) to $1.00, as the demand for Weecoins exceeds the supply. We are looking forward to reaching more people that we can call investors or users. " mentioned.