Greed, what project is behind this token and platform? Get all the information and direct access to the platform now.
GREED aims to be the first ecosystem to combine the thrill of music, NFT market place, gaming
and the value of digital collectibles, transforming it into the digital creature's universe.
GREED will make use of a nextlevel NFT- based gameplay and integrate it with a blockchain-based
decentralized financial system, making the game not only for fun but also an investment.
The ecosystem will be launched across the 3 major chains noted above: Binance, Cardano, and Ethereum allowing the project to benefit from the strengths of each and not be confined to one. Additionally, the ecosystem and its contracts are designed in such a manner that functionality can be enhanced, added, and expanded to include the incorporation of additional blockchains and crypto partner projects.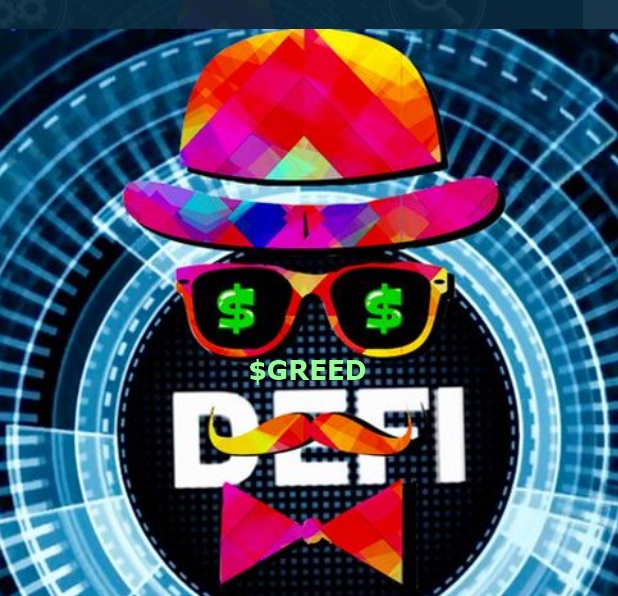 Greed, its ecosystem:
One of the key features of GREED is the large ecosystem to be built out which is inclusive of the $GREED token, GREED Music, the Metaverse, wallet, launchpad, swap, farms and pools, and the
NFT marketplace. The following sections will explore each of the main components of the
GREED ecosystem.
GREED TOKEN
TOKENOMICS
Name: GREED TOKEN
Symbol: $GREED
Total Supply: 1,000,000,000 (1 Billion Token)
– 15% on each transactions
– 8% BNB rewards to holders
– 3% Liquidity Pool
– 2% Marketing
– 2% Auto buyback
The platform token are utility Tokens (have a wider range of use) that have real value and can be used
for all transactions in the ecosystem. $GREED will initially launch on the Binance
blockchain, with a second launch planned for Cardano when the network is ready.
ANTI-WHALE PROTECTION
Whales are notorious for taking advantage of strong communities for personal profit. The smart contract has been developed to nullify such plans. The platform token has a maximum circulating supply of 1,000,000,000 (one billion) tokens. Anti whale protection includes:
– Maximum tokens per transaction is (0.1%)tokens.
– There will be a maximum tokens per wallet to ensure zero whale manipulation. No wallet can exceed 1% holdings.
REWARD POOL
As effectively as the DeFi Farm and Yield system performs, it still lacks flexibility. Both staked tokens and rewards cannot be accessed in real-time (until the maturity date, which is usually a whole year). The stake and reward system is also subject to enormous GAS fees. $GREED launches with a rewards pool that distributes 8% worth of rewards. The distribution is automated on our smart contract, to be carried out every 60 minutes for wallets holding GREED tokens.
GREED MU$IC
Grammy Award-Winning Producers and Songwriters Cool & Dre are bringing the first Crypto Music Label, launching on the ecosystem. GREED Mu$ic will feature:
– Collectible music NFT's of your favorite music artists
– Songs and versions of chart toppers that have never before been heard will now be available as collectible music NFTs.
– Additional versions of album covers that were created but not selected for the final cover.
– Ability to watch live streams of your favorite recording artists working in the GREED Music studios with NFT VIP access keys, see impromptu performances and major concerts live in the Metaverse.
After the token is launched we will announce the start of our contest to find the first recording artist for the for GREED Mu$ic. It will be the crypto world version of American Idol where the community will be involved and the whole thing will be live streamed and documented to share with the world all the way from the beginning of the submissions to the making of the Artist with GREED Music.
GREED NFTs
GREED has a customized NFT marketplace where buying, selling, and trading of NFTs will be supported.
$GREED has its own NFT collections as well as collaborations with some of the hottest artists. This Non-Fungible token marketplace can be used for exchange or sales. Users can opt to trade Digital Assets for another unique or scarce digital asset. At the same time, they can be traded for GREED tokens at an agreed price based on algorithm valuation.
Users can trade tokens and other NFT items on the Marketplace. Products up for sale can be from developers or players and they are bought with GREED tokens. This is considered an exchange of Non-Fungible Token(NFT) and Fungible Token (GREED Token).
GREED METAVERSE
A major Metaverse build in Decentraland that will include NFT wearables, driveables and NFT keys.
These keys will give you VIP access to certain areas in GREEDSwap's virtual world that will also include a GREED Music studio where you can watch your favorite musicians and recording artists create music, while also being able to watch them stream live concerts.