Goldenzone, what is it? Goldenzone is a DeFi Gateway service designed to make DeFi universal and easy for anyone to use.
Goldenzone offers a new type of asset distribution management service that links Defi and NFT market services through blockchain.
Global Cryptocurrency Information
Opening a new platform so that customers can make their own asset management rather than large institutions. And with that, to build a stable asset management service in the virtual asset market. That is the vision of Goldenzone . Blockchain is an important tool for shaping the future of finance. In particular, DeFi and NFT are the biggest topics in the new virtual asset market. We will create services for our customers by continuously upgrading until the day that all digital assets are freely traded in the decentralized financial market.
Goldenzone, features and benefits:
Goldenzone is a DeFi Gateway service designed to make DeFi universal and easy for anyone to use. This is a method that simplifies the complex staking method and reward method, finds the service that provides the most optimal APY, and automatically staking.
When you own a certain amount of cryptocurrency and intend to hold it for a long time, Staking is a program where you can increase your assets significantly without too much effort. It's a useful tool to help you get more passive income.
Goldenzone understands that need and will soon open a Staking program for investors, the currency allowed to participate in Staking will expand a lot.
GLD token:
Tokenomics
Total supply: 10,000,000 GLD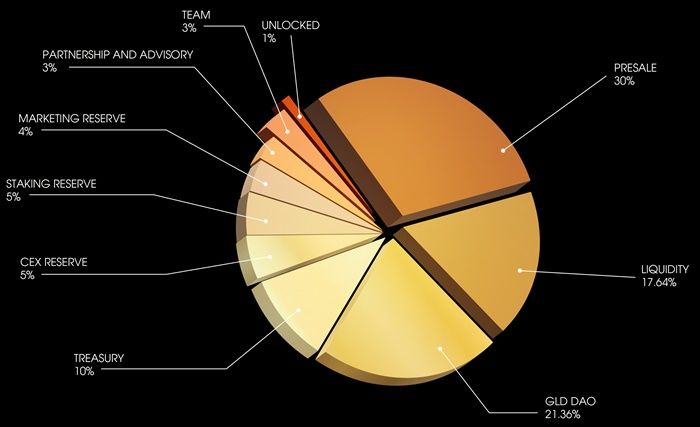 3 more good reasons to use Goldenzone:
Staking
The Reward received from the Staking Service, proportionally decreases in line with increases in Staking Pool participation. To try and offset this affect, GLD Yield Farm has been to designed to feature a separate Booster Reward.
Megalottery
The longer a round is open, the more people can buy a ticket. Each ticket sold increases the prize pool further. Here's how to check the current round's prize pool and remaining time.
Auto Goldenzone Miner
Our auto compounding miner has a 15% daily ROI based off the community contribution. Add your $Goldenzone to the Miner and watch your investment grow.