Cryptocurrencies report for the first 3 months of 2021. Here are the events and figures to remember from Q1 2021.
Cryptocurrencies report, discover the summary of the situation of cryptocurrencies in the world for the first quarter of 2021.
Q1 2021 was filled with breakthrough events in the entire history of crypto to date. An array of achievements were unlocked across various sectors of cryptocurrency as we breached the $2 trillion market cap.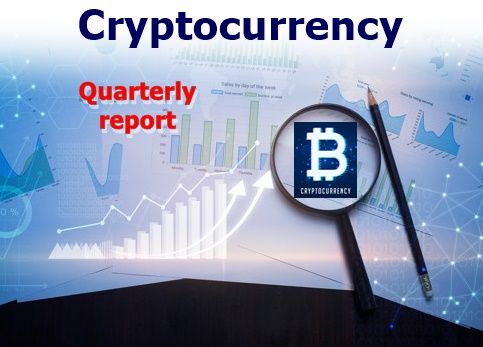 Six important events to remember
Coinbase went public on Nasdaq starting 14th April 2021
Tesla holds Bitcoin as an investment asset and accepts it as a medium of exchange
Fidelity's plan on Bitcoin ETF
Visa enabling USDC as a settlement on Ethereum
An NFT was sold for $69 million
The awakening of Multi-Chains as a response to high gas fees on Ethereum.
The list is non-exhaustive and with this, we believe the cryptocurrency industry will finally experience a wide-scale retail adoption by the end of this year.
Whether you enter through DeFi or NFT, we want to welcome all new users to crypto. Make yourself at home and let us together continue to watch how 2021 is going to unfold.
Cryptocurrencies report,the numbers to remember:
Here are our 10 key crypto-highlights for Q1 2021:
Cryptocurrency Market Capitalization broke past $2 trillion 2.
Bitcoin continues to soar as it broke its previous ATH to $61,315 in March 2021 3.
Alternative L1 tokens outperformed Bitcoin and Ethereum – led by BNB 4.
In Q1 2021 alone, CAKE and LUNA rose up to 2,900% return
BSC's TVL three-fold to $20 billion within 3 months 6.
PancakeSwap became the second-largest DEX ending March 2021 (it flipped Uniswap in April 2021!) 7.
FRAX, UST, and sUSD are the known successful algo-stablecoins 8.
NFT flipped DeFi in term of GoogleTrend 9.
Total NFT art trading volume 1,281X compared to a year ago 10.
CEXs spot trading volume recorded $1.44 trillion, 59% of which belongs to Binance
Q1 2021 has been a wild ride as we witnessed multiple emerging trends along with the institutional switching into a higher gear powering into the crypto space and making their presence known.
Keep your seat belts buckled – this is only the beginning of the journey before we see the mass adoption of cryptocurrencies.
Please follow and like us: