Battle Infinity, the best NFT gaming platform. Here is the basic information you need to know about this project.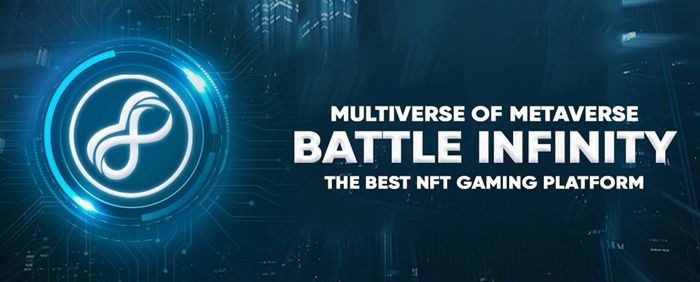 Battle Infinity is a gaming platform made up of multiple P2E (Play-to-earn) battle games. All games are integrated within a metaverse world called the IBAT Battle Arena.
In Battle Infinity world, gamers do not only play and battle but can also enjoy and experience the immersive Metaverse world. Here they can interact with each other, perform, watch and explore the Battle Arena virtual world.
PLAY-TO-EARN
FANTASY SPORTS
REDEFINING BLOCKCHAIN GAMING
Battle Infinity, purpose and mission:
The goal is to revolutionize the traditional world of gaming.
Battle Infinity integrates gaming with the metaverse and blockchain, providing a completely decentralized experience that gives users and creators direct ownership of their in-game items in an ecosystem that is completely transparent and tamper-proof. This game delivers a secure and limitless immersive experience.
IBAT token:
The IBAT token enables users to access all the features of the Battle Infinity ecosystem.
This token effectively removes all the boundaries between traditional gaming and the Metaverse/Blockchain by connecting both. The IBAT token design and implementation make the user experience seamless and efficient, removing barriers to entry around usability.
IBAT is a utility token that runs on the Binance Smart Chain network based on the BEP-20 protocol. It is a repository of value for assets, objects, characters, etc. on the gaming platform.
Use cases:
Entrance to Battle Infinity Platform: IBAT is the way that players enter the expanding world of Battle Infinity games. Users can earn IBAT tokens by playing the games on the platform and use these tokens by spending them on assets such as characters, land, and weapons.
Advertisement: The users can advertise on the Billboards inside the Battle Infinity Platform which can be paid through only IBAT tokens that they can either buy or earn by playing games on the Battle Infinity platform.
Battle Stake: Whoever wishes to play a game, whether it is one-to-one or any other team game, must stake an amount of IBAT Battle Stake Pool in order to get an entry pass for the game. A 10% fee is deducted from the total stake amount, of which 5% is used for foundation development and the other 5% is allocated to the Global Stake Pool in order to reward the players and users. 90% of the staked amount goes to the winner of the game in which the IBAT has been staked, as is required for the entry pass.
Global staking pool: 50% of all transaction fees is always allocated to the Global Staking Pool. The Global Staking Pool benefits the community by rewarding the most active and valuable players. Winners are rewarded for the highest score, completing any tasks, being the most valuable player, most active user, via Airdrop events, etc.
Platform Foundation: IBAT helps the IBAT Foundation to fulfill its remit to accelerate the development and adoption of the ecosystem.
Please follow and like us: