Stackswap, the first complete DEX on the Bitcoin network. Discover the characteristics of this ecosystem as well as direct access to its website.
Stackswap is a decentralized crypto-based exchange and marketplace for crypto investors (all skill levels), following the ideals of crypto and offering financial investment products for the DeFi (decentralized finance) space.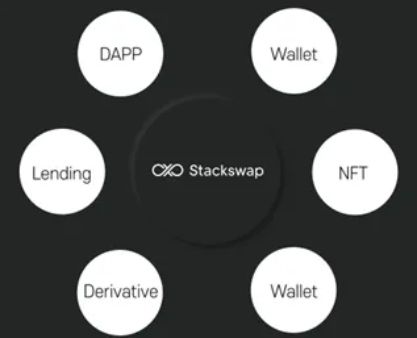 Stackswap, who is this ecosystem for and what are its features?
Stackswap was created for any user seeking an ecosystem to meet entrepreneurs with interesting ideas.
Entrepreneurs can also come to Stackswap for a quick and code-free way to get their projects started, while having access to potential investors already on Stackswap's platform.
The goal of this ecosystem is to create a next generation DEX to support the future growth of DeFi projects in Bitcoin.
Since the beginning, Stackswap was created based on the same underlying principles that DeFi and Bitcoin were originally created upon:
Trustless – Not needing to know or trust other parties inside of the system. Each user can function fully independently from others.
Permissionless – No permission is required from any other party to execute tasks. For example, listing a token or creating a pool between token pairs.
Decentralized – Control and decision-making are based on community, not one central entity.
Features on Stackswap:
Below you will find our growing list of Stackswap tools and features (basic and advanced). As new ones are released, they will be added to the list below.
Swap
Swap your tokens in pools with our automated market maker (AMM).
Pool
Pool your tokens to earn a percentage of total trading volume, as well as LP tokens.
Farms
Lock in your LP tokens for extra rewards paid in STSW.
Stake
Stake your STSW tokens for governance (vSTSW) tokens, as well as additional STSW rewards.
Token Launchpad
Create your project's own token, pool, and get it listed on Stackswap.
Group Farming
Create farms across different projects with tokens and NFTs to promote synergies among projects.
Vault
Create a vault to loan LBTC with STSW or STX as collateral.
NFTs
Mint NFTs generated by our AI deep-learning machine.
About Stackswap
Over a decade ago, three close Ph.D. lab mates leading research in Robotics and Human-Computer Interaction (HCI) found quick success in creating successful Artificial Intelligence models. These Artificial Intelligence models transcended widely known methods such as machine learning and neural networks.
In addition to being avid crypto enthusiasts encountering many losses due to "early-day" crypto weaknesses and a widespread lack of trust in its innate infrastructure, we set out to create a better solution that would reduce risk while creating more value for common investors in crypto.
It's from this place that Stackswap was born. Since then, it's been a rewarding journey and a tremendous success, leading to the launch of our platform, and an increasing number of products.
It's something we're deeply passionate about, and we can't wait to continue delivering significant value for our immediate users and beyond.
Please follow and like us: