Salary Mining (SLRM), what are the features of this project? Discover an ecosystem based on $SLRM, a Binance Smart Chain token.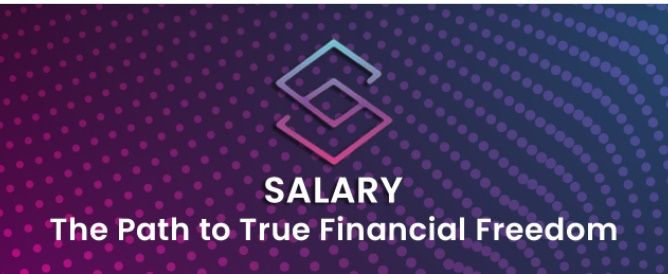 SALARY is a Binance Smart Chain (BSC) token built on best-in-class decentralized technology,
automatically rewarding its holders in Pegged USD ($USDTether), a stable and regulated currency fixed at 1-1 with the US dollar.
#SLRM is the first token linked to a real, physical crypto mining farm in the real world.
It is certain that in the future the crypto news will often talk about this project, find out why?
Salary, introduction:
SALARY was designed with many initiatives and goals in mind – but with one Mission at the heart of them all:
To provide consistent, meaningful, and 'life-changing' passive income to all participants of the SALARY ecosystem.
Salary Eco Finance is proud to be the world's first Yield Generation token to reward its holders in $USDTether.
It is establishing a new standard in DeFi 3.0 Tokenomics with its innovative and life-changing token distribution strategy.
Crypto Salary is intended to be held long-term to generate passive income and capital growth. Due to the stable-coin rewards being paid on all transactions, investors benefit during both Bull and Bear markets.

Salary phylosophy:
Loyalty is trust. Trust is a new currency, much like bitcoin, because the level of trust between a company and its customer translates directly into how each can benefit from the other.
This ecosystem was built on the realization that the crypto-currency and traditional finance sectors are highly disconnected. Individuals around the world are struggling to find ways to send/receive funds at a reasonable cost while maintaining the highest levels of security and convenience.
While technological advances in decentralized finance have reduced costs, increased efficiency and maintained the highest levels of security, there is still a need to bridge these two worlds. SALARY intends to be that bridge. The road will be winding, with many milestones and checkpoints.
At the beginning of this journey, you will discover a central technology,
the SALARY token – a deflationary, frictionless return generating asset that allows holders to earn passive income by simply holding it in a BSC portfolio.
This is just the first step. In the coming months, the team intends to expand the business on the blockchain through a plethora of new projects, such as a debit card, a mining token (SLRM), and more. This is just the beginning.
A few words from the team:
Salary Eco Finance was created to provide our holders with multiple passive income streams.
Want to know more?
Please follow and like us: