Paper token, what is its use? Discover its usefulness, its characteristics and the direct access to its official website.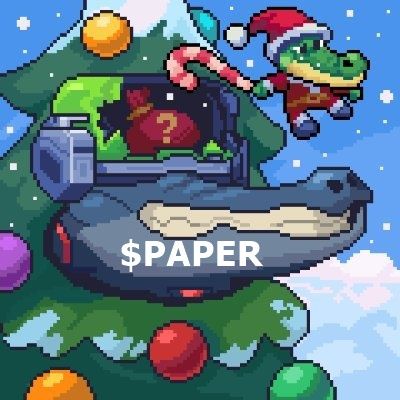 PAPER token will have a fixed total bid of 1,000,000,000. Here is an introduction to this token and its ecosystem.
PAPER token, introduction:
PAPER token is to be the base utility token throughout the paperhands ecosystem, we bring with it a focus on these key topics: Utility, Scarcity & Sustainability. Rather than a public launch and creating tremendous sell pressure from the outset, you'll need to be within the paperhands ecosystem to get rewarded with the initial claim and staking rewards of $PAPER.
The initial claim and staking rewards have been designed with the above principles in mind, but in any case the true value of $PAPER is going to be driven by the utility we can provide. All too often a token is released for the sake of a token, we aim to provide many avenues to utilize your $PAPER across varying use cases. There will be plenty of opportunity for burn (deflationary) mechanics through the $PAPER marketplace, mints and subscriptions – ratios of burn will differ based on the use case.
Any token that is launched is only as good as what you can use it for, by combining both practical utility use cases for $PAPER (from both within and external to the community) and the upcoming P2E economy, you'll have to decide where your $PAPER is put to best use…
WHAT IS ACROCALYPSE?
Paperhands.gg was the original brain child of sam witwicky – a fun way to see how if you've missed out on gains by selling early (paperhanding). The paperhands experience picked up some true virality, and many find they can relate to this after running their wallet through paperhands.gg.
Being involved in the space and a true degen himself, it's clear that a lot of the projects and tooling available seem to miss the mark or fail altogether which presented an opportunity to bring a project with substance to the table.
These space racing reptiles are not only an amazing feat of art but act as the gateway into the paperhands ecosystem.
The aim of Acrocalypse is to bring both beginner friendly and more advanced tooling to croc hodlers, making day to day lives easier to manage and more profitable!
But in true sam witwicky style, why would we stop at a simple access pass. Why take it to another level and bring some P2E (Play to Earn) action to the table.
By adding this exciting element into the mix, it allows Acrocalypse to be one of the first multi dimensional NFT projects available that provides real utility via the platform, but also P2E – what a combo!!
What's the future hold?
A few words from the team:
It's pretty simple but we'll be building until the lights turn out. We are all so early on the adventure into Web3 and opportunity presents itself around every twist and turn. As the team has proven already, we'll continue to be agile and adapt to the landscape as it evolves and new opportunities arise. We believe by building out truly useful utility, we'll continue the incredible organic growth we've already seen so far and help increase the quality of journeys experienced in the NFT space as a whole along the way.