Select your language
Forex without broker, trade Forex without account, how? Find out what decentralized Forex is.
Forex without broker means being able to trade without an account, without sending your money to a broker, is this possible? Yes, thanks to decentralized trading.
Quick reminder: DeFi is the movement that leverages decentralized networks to transform old financial products into trustless and transparent protocols that work without intermediaries.
For a long time now, people who trade have known that it is always difficult to send money to a broker who will then have to return it to us, not always in the time and under the conditions we would like.
Decentralized Forex is the possibility, thanks to Metamask and a decentralized trading platform, to trade while keeping control of your money at all times, since it remains in the possession of the trader.
The decentralized trading platform using the GNS token, allows you to trade with leverage on both Forex and cryptocurrencies.
The goal is clear, to have access without an account to a leveraged trading platform that is robust, that remains accessible during high volatility, which has been the case throughout 2021, but not only.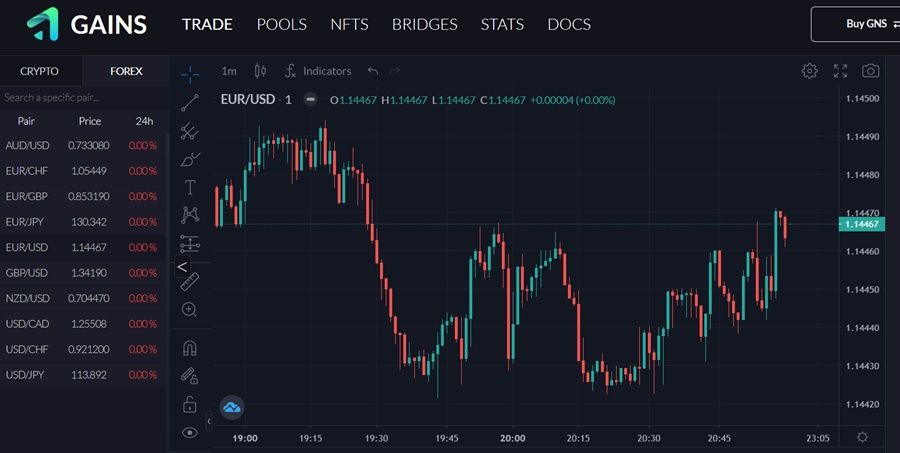 Indeed, the way prices are set is important, the spread, the custody fees, everything has been studied to remain favorable for the trader and not for the platform, you can read about it and see for yourself.
Find out how to trade from a computer, smartphone or iphone, at home or on the move, with no constraints imposed by a broker.
Forex without broker in a nutshell:
In a decentralized market, technology allows investors to deal directly with each other instead of operating from a centralized exchange.
The absence of intermediaries will result in lower transaction costs than in regulated markets.
It also gives access to anonymous trading, without an account.
Please follow and like us: