CryptoARC, NFT P2E game. Discover the characteristics of this ecosystem as well as direct access to its website.
CryptoARC game is an NFT P2E game, that is, a money-making gambling game as a new generation RPG game. The gamer can grow the items acquired in the game and sell them in our NFT market, or strengthen my character with those items.
In addition, gamers can purchase NFT items using ARC in the NFT market and equip them to their characters to increase their character's level. ARC can be purchased on Cryptocurrency Exchanges where ARC is listed.
If you follow the NFT news, this project should be of particular interest to you.
CryptoARC, vision and carcteristics:
Board games such as GoStop and poker are now out of date, and the current trend is P2E games.
In other words, RPG games that make money are hitting the world. The traditional go-stop or poker game market was formed only in Korea, but now the p2e game is a huge market all over the world.
Today's young people are crazy about P2E games. This is the reality of today's generation who drop out of school, beat their company, and cling to money-making games. The generation of people who make money from hundreds to hundreds of millions of dollars a month by playing games on mobile has arrived.
Mobile TCG P2E 'CryptoArc' will be released through Google Play.
'CryiptoArc' is a TCG that unfolds a vast story based on the 'Romance of the Three Kingdoms'. You can select a formation such as three countries and enjoy elements such as collecting beautiful longevity cards and strengthening them. You can also meet the newly drawn heroes such as Liu Bei, Cao Cao, and Guan Yu.
In particular, it is possible to obtain a stronger longevity by winning the treasure through a fierce confrontation between users, and the matchmaking system according to the longevity weapon makes it possible to use various tactics depending on the situation.
In addition, users can sell and purchase their cards through the NFT exchange, and obtain new NFT cards through the breeding system.
ARC specifications: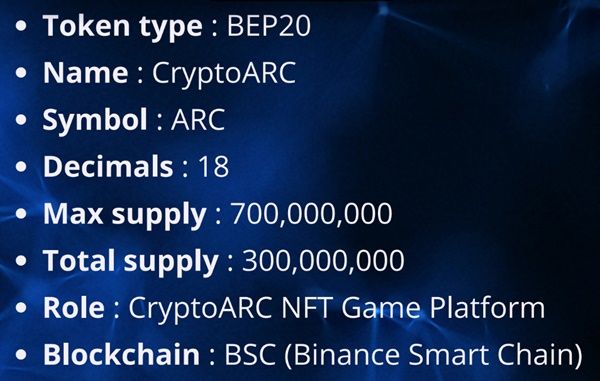 The ARC token was created with Binance BEP20.
Crypto Arc is a trading card game that unfolds a vast story based on the "Romance of the Three Kingdoms", come and discover it quickly.