Potfolio, first leveraged index. Discover how it works, its advantages and direct access to its official website.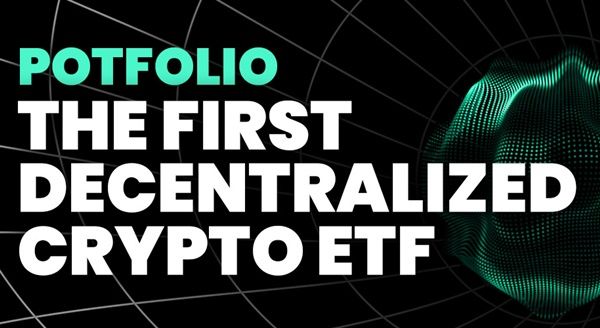 Potfolio is the first leveraged index that lets you invest in an exclusive selection of the best assets, diversified like equity funds with the best yield expectations.
People who already trade on a decentralized trading platform will certainly appreciate this project.
Potfolio, introduction:
With institutions adding cryptocurrencies to their balance sheets and the first countries (such as El Salvador) officially declaring Bitcoin as legal tender, it looks like Bitcoin will be the future of currency, or at least an accepted store of value.
However, with so much volatility in the market, risk-averse investors are still hesitant to buy Bitcoin, let alone any other cryptocurrency.
Since cryptocurrencies are not controlled by a central authority, their monetary policy is much more solid than any government's.
Cathie Wood, CEO of Ark Invest, describes it as a "rules-based monetary system," as this monetary policy is set by the parameters of the code.
As governments print more money than ever before in the face of acute crises, investors are looking for alternative investments to hedge against inflation.
In doing so, many are now increasingly turning to crypto, which will drive the adoption of cryptocurrencies in the long run.
Our experts believe that we will generate one of the highest achievable returns in through our asset selection, because crypto is the future.
The reasons are:
1. the rules of crypto are permanent
2. crypto is and will be scarce
3. crypto is transparent
4. crypto is uncensorable
5. low transfer costs
6. regulation is developing positively
7. crypto offers high profits
8. crypto inspires philosophical choices
9. crypto is an excellent alternative to gold
10. crypto is a new asset class – great for diversification.
Of course, these reasons are valid not only for the BTC, but also for other so-called "bluechip cryptocurrencies" such as ETH, BNB and others.
13 pieces have been selected, they represent the most interesting in order to create a good diversification.
Here are the 13 coins that will represent this portfolio:
Bitcoin, Ethereum, BNB, Cardano, XRP, Polygon, Dogecoin, TRON, Litecoin, Polkadot, Avalanche, Uniswap, Chainlink.
These premium coins are monitored continuously. Our portfolio remains stable and is adjusted in case of exceptional and rare market developments. For example, when an important crypto-currency is merged or a new one is added.