Pixie, social crypto-earning. Discover the characteristics of this ecosystem, its advantages and its official website.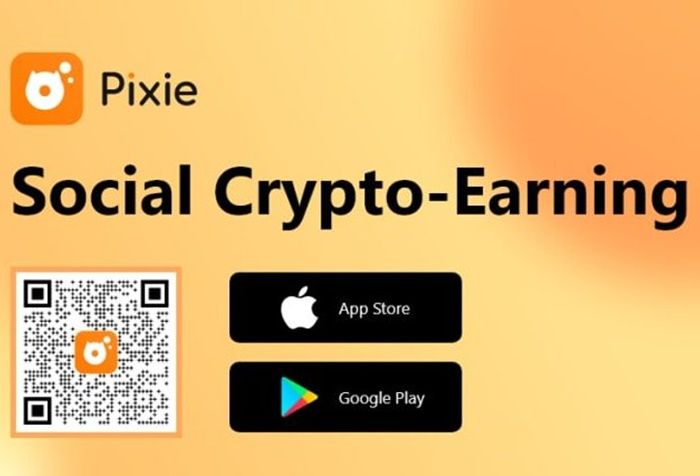 Pixie is the world's first fully functional crypto-based photo and video sharing social network in Web3 with SocialFi concepts.
Pixie, features and benefits:
Here is THE WORLD'S FIRST FULLY FUNCTIONAL crypto-based photo and video sharing social network in Web3 with SocialFi concepts.
This project empowers users to truly take ownership of their data. Users can mint posts into NFTs, which can be easily exported to other supported platforms.
Here is a brand new "Creator Crypto-Economy" model and rewards users for their social activities with crypto PIX.
This ecosystem works with all its users to build a decentralized social network where users can manage and share value and profits of the platform together.
Web3 users will be able to post their Ethereum NFT assets in Pixie App and share their NFT with other users while earning PIX rewards accordingly, denoting a true SocialFi platform.
and much more to discover on the official website.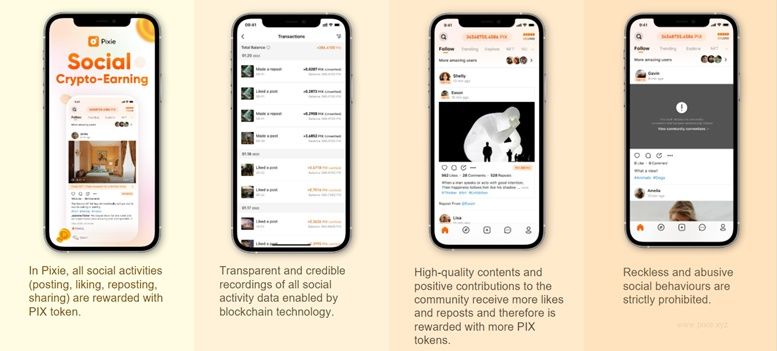 PIX token:
PIX, the only token of the Pixie platform, has a well-designed mining and burning mechanism.
PIXs can be earned through social activities such as posting, liking, or reposting. Meanwhile, tokens can also be consumed and burned through economic activities, including official NFT purchasing, NFT trading, advertising, or camera film consumption, etc.
The maximum supply of PIX during the life cycle of Pixie is 100 billion.
It can be used for:
Staking and Governance on Pixie Chain
Pixie Chain adopts a POS mechanism, where global nodes could apply to join and can enter the elected pool and become a formal node through a free competition based on the amount of PIX staked after
more than 70% nodes of the pixie chain agreed. These nodes will receive Pixie Chain Mining rewards.
Functional Staking on Pixie App:
Users can use some of the App's functions only when a certain amount of stake is reached, such as participating in specific activities and more.
Purchasing the Official NFT as a "Weight Increasing Item" in the App
This project has introduced the exclusive NFT cameras. These items can increase your in-app "Weight", allow voting power in Pixie DAO, and increase your Energy Cap and Energy Regeneration Speed.
Publishing Ads on Pixie App
Advertising revenue is usually the primary income of the current centralized social network. In Pixie, the users are entitled to share the advertising revenue. To enable all users to share the advertising revenue with the platform. The project defines the following process: advertisers purchase PIX in the market and then top up their Pixie advertising accounts. Next, the platform will push ads to a range of relevant users according to the amount of PIX the advertisers pay and corresponding users who are engaged in the ads will get rewarded.
Paid Features on Pixie
Some exciting but locked functions need to be paid for on the platform:
Pay to view unique pictures
Create group chats
Send private messages to KOLs
Tip host during a live stream
There is more to come!
NFT Trading
This ecosystem will have its own NFT trading market. Different from other trading markets such as Opensea, the floor price of the NFT market and the display and exposure of NFT collections are all based on the social data of such NFT in the App.