Netz token for thought leadership offering responsible solutions for a sustainable future. Invest in pre defined and fully risk mitigated Green Energy Assets.
Netz token to invest in green energy assets for a sustainable future.
"The NETZ Coin is Powered by Net Zero Enterprises Renewable Energy Plant Portfolio"
NETZ is developed by the team that over 36 years has partaken in over 200 successful projects
with zero defaults, at a cost of $30 billion in project finance capital.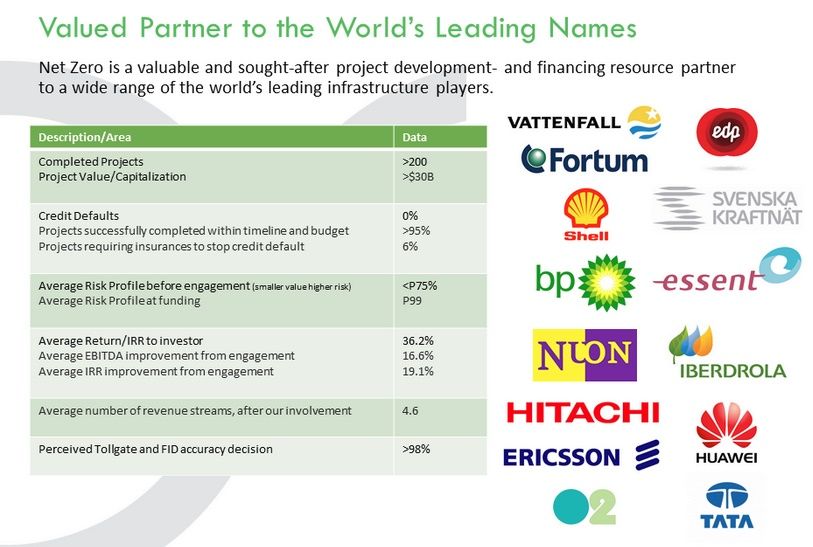 NETZERO is now introducing their NETZ Coin, a 2.0 Generation Security token.
NETZ enables open access to all Investors into high yielding of Energy Power Plants, which has historically only been accessible to Multibillion Energy Corporations and Funds
NETZ invests in and develops Green Energy Power Plants within Waste to Energy and Aquaculture with underlying collateral and highly profitable Renewable Energy Assets (ESG -Profitable Impact Investments), which gives NETZ a tangible real world asset value in contrast to other crypto currencies.
NETZ has a unique structure since the assets already have a pre determined asset value and cash flow due to the contractual structures. For example, the same percentage return to all token holders as long as any amount is raised in between the soft cap and the hard cap, due to the pro rata structure and distribution schedule.The structure and strong offering is further illustrated in the below key metrics. All the below values are based on the actual asset values and cash flows without any increase in the coin value due to market drivers, speculation and other driving forces, that will impact and increase token price, has been considered.
Our video:
Netz token in a nutshell:
Netzero Coin LogoNETZ is launched and developed by Net Zero Enterprises, a Renewable Power Plant Asset Developer originating from Sweden with a 36 year track record of developing and delivering risk mitigated, best in class Power Plant Assets.
Netzero Coin Logo Net Zero Enterprises delivers consistent +25% IRR returns to Net Zero Enterprises Private Equity Shareholders in their projects worldwide. To date, Net Zero Enterprises has taken part in over 200 projects with zero defaults.
Netzero Coin LogoThe evolution into NETZ is the combination of a successful asset developer owner with the results and capabilities of a high performing midsize fund with the additional effects and synergies that results in 1+1=3
Netzero Coin LogoIn addition, NETZERO provides full transparency as to the performance and financial results through unaltered blockchain reporting.
Please follow and like us: