MetaCars, what is it? Here is a Token + NFT including Play to Earn Metaverse Game inspired by the cartoon Cars.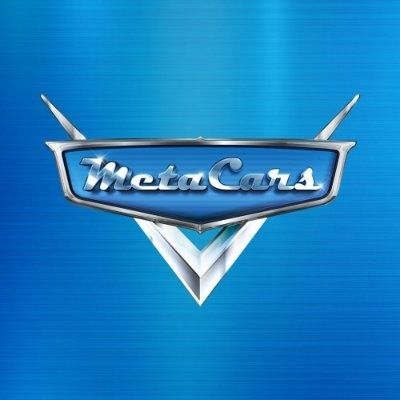 MetaCars is a token-based NFT metaverse game inspired by the Cars cartoon.
We all watched the Cars cartoon as kids, but now it's time to make our dream come true by creating a community of car enthusiasts. MetaCars is a hyper-deflationary proprietary token on the Binance Smart Chain network. MetaCars is not an ordinary token, it is a token that brings together all car cartoon enthusiasts in a community and offers them different types of NFTs to use in the Metaverse and the cardboard of cars converted into a Metaverse GAME.
The goal is to bring together a community of car and racing game enthusiasts, organizing many events, CarShows, etc.
As a community project, it is planned to grow with the users, their requests being the driving force behind the development of the platform and this is what strengthens MetaCars NFT & MetaCars Game.
To ensure a healthy smart contract, free from any malicious functions, it is planned to audit the address of the MetaCars token contract from "CertiK", which will provide investors who invest in MetaCars with absolute security.
In the news of the metaverse, there is often talk of games, indeed, the competition is becoming important, however, this project may well be talked about in the future, what do you think?
MetaCars game, play to earn:
MetaCarsGame is the game's utility token that can be used to reward for players participation in tournaments and missions. MetaCarsGame is a 2022 arcade-style racing video game in Metaverse.
The game features a racing style that incorporates Cars Cartoon cars and locales with arcade style handling and vehicular combat. This game will be able to play in Metaverse. Every new player should buy a car with $MetaCarsTokens. Players can upgrade their cars, can buy new cars, also can earn by playing. Another thing is that players that owns NFTs, can use those NFTs as cars in the game. Every player should hold minimum 50$ amount of MetaCars Tokens to be qualified to get the rewards.
The MetaCars NFTs are 5,040 uniquely generated characters, 320×320 pixel art images generated algorithmically. None of them is exactly alike, and each one of them can be officially owned by a single person on the Ethereum blockchain.
The game is a race where during the game players can collect guns where they can use those to make damages to other players.
There are 3 types of guns:
1. Shunt – A powerful homing missile that flips cars into the air
2. Bolt – Shoot three energy rounds to nudge your opponent off course.
3. Mine – Throw it ahead or drop it behind you, a Mine spins vehicles out.
The game can be played online for a maximum of 20 players in a match over the internet. In a custom game, options can be set before each match that determine the layout of power-ups, car classes, number of laps, and the car to race. A match type called "MetaCars Tour" is essentially a quick play option for players who want to jump into a match. Here, every player is given a random car and thrown into a random series of courses with a standard ruleset. Multiplayer also offers "MetaCars Team Racing" mode. Two teams (MetaCarsAlpha & MetaCarsOmega) can put themselves head-to-head either publicly or private.
More info:
During races, each player accumulates points for their finishing position. If you own an NFT of MetaCars, then you can use that NFT as a car in the game. The game will be connected with blockchain, so for every game that you win, the record will be saved in blockchain. In the game will be the garage where the players can upgrade their cars, their weapons, etc. You can lend your NFT to other players, so they can play with your NFT, the more you play, the stronger gets your car!
For every game that the players win, they will earn $MCPoints, where they can convert those points into MetaCarsTokens. We will organize tournaments every week, where the players will be divided into 20 players per group, where at the end all the winners will race together, and there will be top 3 positions of winners, and our team will reward them with $MetaCarsTokens.
MetaCars token: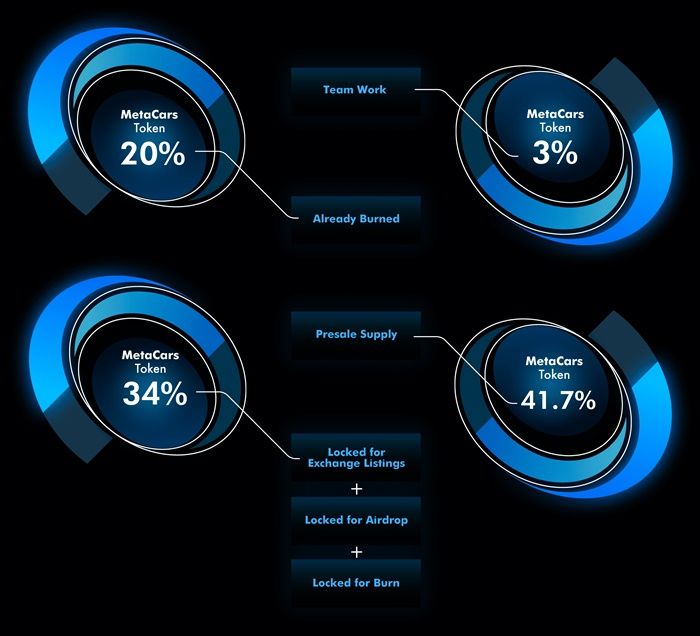 MetaCars is a token on the Binance Smart Chain Network, with a total supply of 100 billion MetaCars tokens, and it has a super mechanism of reflections and buybacks.
Launch Supply: 100,000,000,000 MetaCars
-Soft Cap: 300 BNB-Hard Cap: 600BNB
-Min. amount: 0.05 BNB
-Max. amount: 4 BNB IDO
Rate: 44,000,000 MetaCars per BNB PancakeSwap
Rate: 39,000,000 MetaCars per BNB