Meta Merge, the metaverse to discover, here's why? Find out more about the features of this ecosystem, as well as direct access to its official website.
Meta Merge is a metaverse combining AIGC, NFTs, DeFi, and Gaming.
Are you ready to embark on an epic quest to capture and train the most powerful pets in the land?
Meta Merge, introduction:
If you've been keeping up with metaverse news, you're sure to enjoy this new project, and here's why?
The community is invited to collaborate in the development of the AIGC experience. Thanks to Meta Merge AIGC, our technology that generates exceptional pets for NFT owners, the community can actively participate in its evolution.
Embark on a journey of discovery by solving unique quests, strengthening your team and creating your own scenario.
With intense PvP and PvE battles, you'll have the opportunity to become a legend in the arena. Take part in open tournaments for a chance to win prizes.
Capture, collect and merge monsters to create even stronger and more unique creatures. With infinite possibilities and combinations, the sky's the limit when it comes to creating the ultimate team.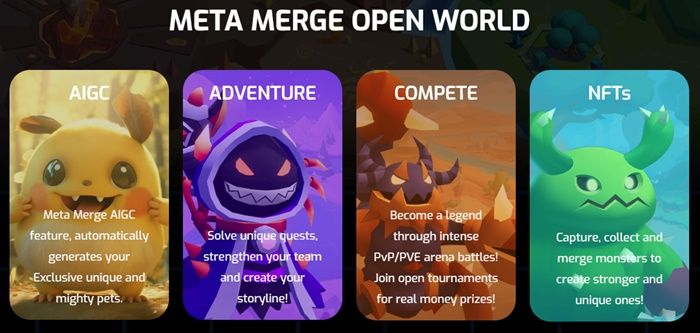 Adventures Start Here
This game offers users the chance to capture, train and engage in exciting battles with their favorite pets.
Thanks to a variety of interactive gameplay features, users can hone their pet training skills and unlock exciting new abilities for their pets along the way.
You are part of the journey: create your own adventure, solve quests, train your pets, earn rewards for your efforts, and become legends.
The journey ahead is not easy, you'll face tough enemies and challenging obstacles along the way.
Get ready to rise to the top and prove yourself as the ultimate champion in the Meta Merge world.
Trainers, dawn is calling. Pick up your spell book and buckle up for one last war!
Meta Merge Mana $MMM
The native cryptographically-secure fungible protocol token of Meta Merge (Meta Merge Mana ticker symbol $MMM) is a transferable representation of attributed utility functions specified in the protocol/code of Meta Merge, and which is designed to be used solely as an interoperable utility token thereon. $MMM will be issued as a BEP-20 token, with total supply 10 billion.