Makk platform and its token, a DeFi project. The Makk-daddy of crypto tokens! Info and direct access to the platform.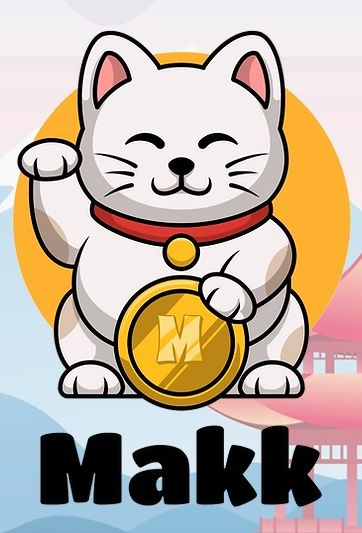 Makk is a deflationary DeFi token that runs on Binance's Smart Chain. Its core principles are deflation, reflection and automated liquidity acquisition to ensure fair treatment for all investors and holders.
Makk is a DeFi deflationary token project with 3 key benefits at its core.
Rewards – through tokens, through long-term growth, reflection and completion of Tier 3 projects and initiatives with unique reward mechanisms.
Equity – for the loyal community, with a focus on equal opportunity to invest in pre-launch, public launch and beyond.
Security – with a dedicated project team committed to a long-term vision for Makk. Locked LP, ownership waiver, post-launch audit and non-recovery.
Makk is one lucky cat, here to spread good fortune and love to the moon and back!
Makk, how does it work?
Makk operates on a 9% transactional fee from each trade. This fee is distributed in the following way:
Reflection – 3% to proportionally reward existing token holders and incentivise further acquisition of tokens and overall growth. A portion of the reflection also goes permanently to an inaccessible burn wallet, to decrease permanent supply and increase scarcity
Liquidity Pool – 3% this acts to stabilise the value of Makk and prevent whales from selling out crashing the price
Development and Marketing – 3% goes to funding ongoing platform projects and community engagement and enhancements.
Due to the nature of 3% of each transaction being passed on to Makk holders this has the side effect of causing the token to be deflationary. The largest "holder" is a dead wallet where approx. 40% of the initial supply will be burned.
Since this wallet is not excluded from reflections, a proportion is added to the burn wallet thus decreasing the circulating supply slowly over time. The tokens in the dead wallet are completely inaccessible and are effectively burned.
An advantage for the platform's native token holders is that the decrease in circulating supply, when demand is high enough, can increase a price of the token over time. Deflation of the circulating supply happens at a safe rate and in short promotes growth.
Direct access on: