Kochi Ken, created by leaders and innovators. Learn more about the goals and features of this ecosystem and its official website.
Kochi Ken, the brave wolfhound is on a mission to innovate and maximize the potential of tokens and NFTs.
Kochi's new TriFi Tokenomics shares 50% of revenues with KOCHI token holders.
Kochi Ken, introduction:
The creators of this ecosystem coined the term "TriFi" to describe the three main functions of the Kochi ecosystem Ken:
revenue sharing utilities,
NFTs with utilities,
and a memecoin.
This innovative revenue sharing model allows the Kochi Pack to earn passive income from the success of these products and the value of the KOCHI token.
KOCHI is the fuel for the TriFi KochiKen ecosystem and the ticket to joining the Kochi Pack. Each token represents a share – the more KOCHI tokens you put in, the higher your USDT dividends.
Kochi provides holders a safe haven for their investments through our revenue sharing staking model. The mission is to develop a plethora of tools and utilities which will improve security and allow more efficient project research.
Launchpad
KOCHIPAD
Kochipad, the flagship product, allows token projects to host pre-sales on the platform with a very advantageous fee structure of not collecting tokens.
This means that there can be no negative impact on the graph by taking profits.
This business model is based on sharing. Of the total fees collected, 50% will go to the team and 50% to Kochi token holders.
Here is an ecosystem that offers an innovative launch pad where new projects can safely launch their tokens.
The BSC and Ethereum chain will be available at launch, and other channels will be added gradually. To ensure that users have a positive pre-sale experience users a positive presale experience, KochiPad will use advanced bot protection for all presales. Bot protection is just one of the many security measures that are implemented to that are implemented to maintain a safe environment for investors.
BLOCKY
Blocky is a free Chrome, Brave, & Firefox web browers extension that protects you from crypto scam websites that steal your coins.
When investors hit NFTs on scam sites, they can either have their wallets stolen or hit a worthless fake contract that steals your wallet. Blocky fights crypto scam sites with a simple system of multi-colored paw icons that alert you when the site you're on is about to scam you.
TOKENOMICS
The native token on the Kochi Ken Protocol is the $KOCHI token.
$KOCHI is the BEP-20 token created on the BSC Chain and is linked to all tools and utilities built within the Kochi Ken ecosystem. The total supply of $KOCHI is 1 billion tokens.
Every purchase and sale on the protocol will begin with a 7% tax on every transaction, eventually being lowered to 0. The tax will be divided as seen below: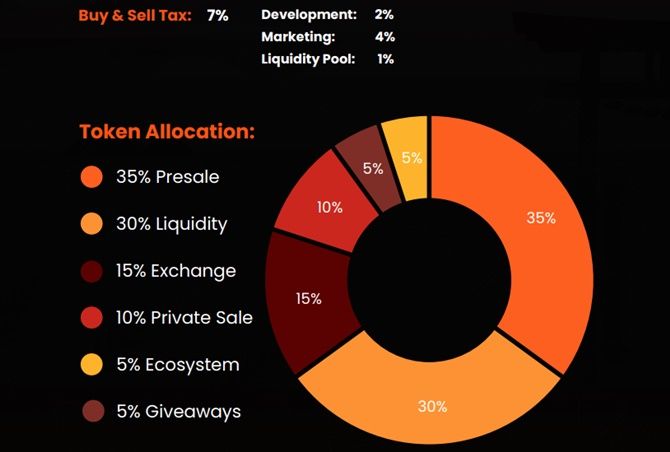 Kochi Ken is pioneering the way for the future of cryptocurrency and company management. The Kochi Ken business model will create an innovative platform that will assist projects in every aspect of their business.