Golden Inu Token, the community reward utility crypto-currency. Discover its characteristics as well as the direct access to its official website.
Golden Inu Token is a community-rewards utility cryptocurrency that prioritises the community's and investors' interests.
Embark on an exciting adventure with Golden Inu, a token created by the Golden Horde!
As a member, you will embark on challenging quests, each of which will reward you with bounties and valuable experience points, since the Golden Treasury is a multi-signature wallet & contract will be renounced, Golden Inu will be managed by the Golden Horde ( Team + Holders )!
Golden Inu – The Meme Coin that Brings People Together:
The Golden Inu token is a revolutionary meme currency project that brings together individuals aspiring to form a tight-knit community. Inspired by the legendary Golden Horde of the 13th century, this token aims to conquer the currency market and the NFT world in the same way – by building strong bonds between its members.
Here, they believe in creating a decentralized economy that allows people to have full control over their finances, without the constraints of centralization.
GOLDEN has been listed on PancakeSwap (BNB Chain: New Binance Smart Chain name) since February 24, 2023. With a liquidity pool locked for 10 years, an automatic addition of 3% to the liquidity pool by smart contract and sending LPs are burned can be seen here. The main objective for the team is that the community's investments are safe.
The mission is to create a world where everyone can benefit from the crypto-currency market, regardless of background or location. With this token, you have the opportunity to be rewarded for your loyalty and commitment to the project.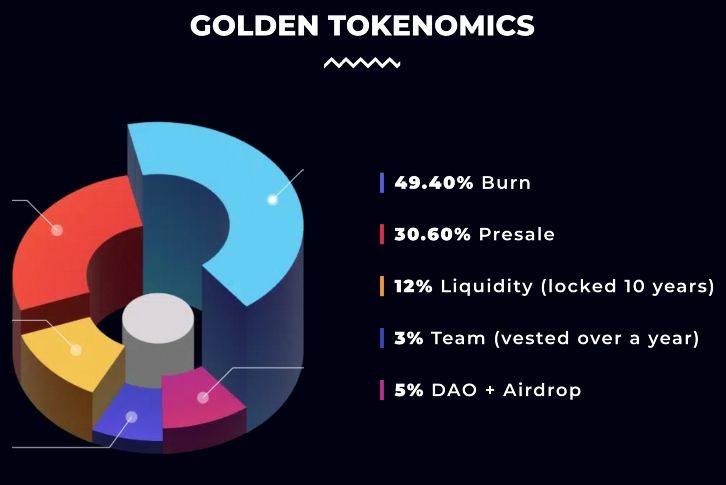 Problems Identification & Solutions with Golden Inu:
The memecoin market has encountered several significant obstacles in recent times, including insufficient security, poor community involvement, and an overemphasis on short-term price discovery. These problems have resulted in a market plagued by volatility and unpredictability, leaving investors looking for a more stable and trustworthy alternative.
The Solution: Golden Inu – A Strong and Committed Community
Golden Inu intends to provide a solution to the challenges faced by the memecoin market by prioritizing the development of a strong and committed community, creating a strong brand and image, and ensuring the safety of our investors' funds.
The community development strategy revolves around the "Golden Horde," a network of dedicated supporters and investors who are committed to the success of Golden Inu. By providing educational resources, tutorials and engagement opportunities, we aim to foster a sense of stability and support for the play. This will help attract and retain investors over the long term, which will strengthen the success of our project.
In terms of security, Golden Inu relies on a strong infrastructure and security measures to guard against hacks and scams. Our focus on security, combined with our attention to creating a strong brand and consistent image, helps make Golden Inu a credible and trustworthy investment.
Finally, this project focuses on creating real wealth for all stakeholders, rather than short-term price-gouging. The project is designed to provide a sustainable and secure solution for crypto-currency investors, and it is clear that the combination of community building, security and wealth creation differentiates this project from the current memecoin trend.
In conclusion, this ecosystem presents a unique and innovative approach to investing in the crypto-currency market, providing a solution to the challenges facing the memecoin market. With a commitment to community building, security, and real wealth creation, it seems clear that Golden Inu has the potential to become a leading player in the crypto-currency market.
Please follow and like us: