Decentralized stock trading, the DeFi universe gives you access for the first time to stock trading through a decentralized platform.
Decentralized stock trading, finally possible thanks to the first decentralized trading platform offering crypto, forex and stock trading.
The gTrade platform has developed proprietary technology that allows anyone, anywhere to trade stocks with up to 150x leverage and a superior user interface. Traders can trade decentralized, without registration and with control of their money, since it is not sent to a broker.
Decentralized stock trading, what exactly are we talking about?
For the first time in the history of finance, it is now possible to trade stock prices with leverage on the blockchain.
Stocks are not tokenized assets, trader are offered a synthetic that uses the median global price of a selected stock. There are no premiums. This is the best trading experience you will find in decentralized finance for stocks.
Currently, 23 stocks are available for trading, with leverage up to 150x.
Plus, there's no need to register to trade!
This gives everyone an easily accessible way to trade some of the most popular stocks on the market.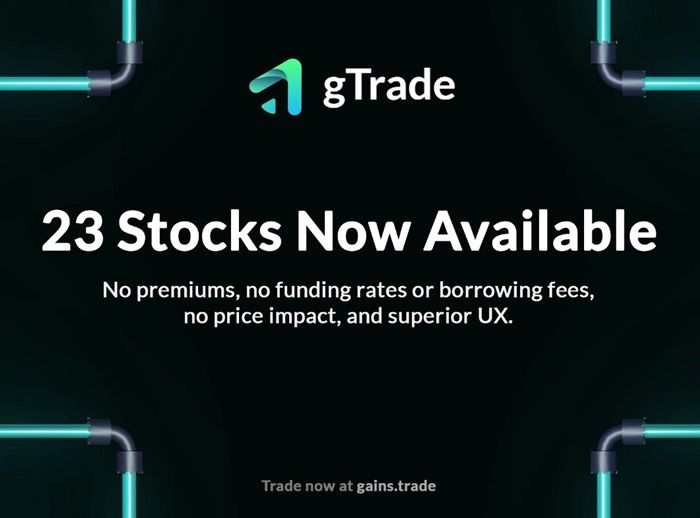 The first 23 stocks:
$GOOGL, $AAPL, $FB, $AMZN, $MSFT, $TSLA, $SNAP, $NVDA, $V, $MA, $PFE, $KO, $DIS, $GME, $NKE, $AMD, $PYPL, $ABNB, $BA, $SBUX, $WMT, $INTC, $MCD.
Rules for Stocks
Earnings and dividend reports are news events which are known to affect sentiment and the perceived value of stocks. Because of the extreme volatility of these events, it would be possible to use these important reports to one's advantage — this is due to the max loss being 100% of the collateral, and the max win being 900% on gTrade.
Since you are offered the opportunity to trade with potentially high leverage, it is necessary for gTrade to ensure the integrity of the platform.
This includes, for example, restrictions on opening trades on the day before earnings and dividends, which is perfectly logical.
However, already opened trades will not be affected and the user retains full control over the possibility to close them.
It is also interesting to note that in case of a stock split, a new trading pair will be created in the backend.
This means that traders will not lose their open positions, and the percentage change in price, since the opening of a position, will remain consistent.
The expected exposure will be maintained! That's the beauty of this synthetic infrastructure – it's easily adaptable and robust.
In conclusion:
The technology developed for trading stocks on gTrade marks a significant step forward in providing access to decentralized trading for professional and amateur traders alike.
This decentralized trading platform being able to easily list any stock that meets our API requirements, and all while leveraging the existing liquidity of the $GNS/$DAI pool while accurately maintaining spot prices.
This means that the ultimate goal is finally achieved: to give traders around the world easy access to an excellent trading experience, which also includes all the tools and assets they need to succeed.
Of course, in order to familiarize yourself with this platform, you have the possibility to use the virtual mode before going to the real mode.
Warning:
It is important to trade with knowledge, which means that technical analysis of US stocks is a step that should not be neglected.
or